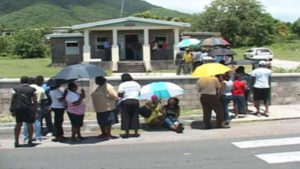 "The People's Action Movement has made it very clear that the party is in favor of having a residency requirement in place."
That was Leader of the People's Action Movement, Deputy Prime Minister Shawn Richards reiterating the party's stance on the amendment to the Electoral Act now before the parliament that will see the implementation of a 6-month residency requirement for voter registration in the federation.
The proposed legislation has sparked controversy among citizens and residents at home and abroad as some claim it will disenfranchise nationals living outside of the federation.
The PAM leader said a voter residency requirement would help eliminate fraud in the electoral system.
"We also don't want a situation where somebody would take a decision to come and live in Sandy Point for a week, two weeks, a month, and then determine well I can register to vote I Sandy Point and you're simply doing it to to manipulate the electoral system; so the residency requirement that we have been advocating is for all persons.
"You must live in a constituency for a particular period of time before you are eligible to register. We stand by that position and we will continue to advocate for a change in the electoral laws to reflect that position."
Deputy Prime Minister Richards maintains that legislation of this type is is already in effect throughout Caricom, including all other members of the Eastern Caribbean Currency Union.
He gave statistics to further bolster the argument for a residency requirement, revealing that St. Kitts, with a population of approximately 35,000 residents, had over 31, 000 registered voters. The statistics also indicate that around 9,000 of the persons living in St. Kitts are below the age eligible to vote, which means there are thousands of persons on the voters list residing overseas.
"The voters list for Sandy Point probably has on as many persons as there are residing in Sandy Point, and you know many of the persons residing there aren't eligible voters because they are under the age of 18.
"So a lot of the persons on the voters list are persons living overseas, and these are of the issues we need to rectify so we are advocating for a residency requirement for all persons; because you can come to Sandy Point and shack up with someone for a month and say you live in Sandy Point and after the month you go back to wherever it is you live, and it's simply because what- you're trying to cheat the system. And we're saying that must come to an end.
"I want to look at some statistics; at the poll of 2015 the registered voters in St. Kitts was 31,081, when you look at the last census of 2011 when you look at St. Kitts the population then was 34918 persons. So it means 31,000 on the voters list but you have 34,000 living in St. Kitts but when you do a break down of the figures by age group you recognize that from zero to age four you had 3,108 persons, for the age group 5 to 14 years you had 3,472, and for the age group 15-19 you had over 3800 persons.
So if you do the math you have about 14,000 persons [ out of the 34,000 total population in St. Kitts] below the age of 18…and so you recognize that you have a significant number of overs living overseas and so we're saying there should be a residency requirement which is not discriminatory against anyone."
DPM Richards noted that he does not subscribe to the argument that having property in and sending remittances to the federation does not in itself qualify nationals living overseas to vote in St. Kitts and Nevis.