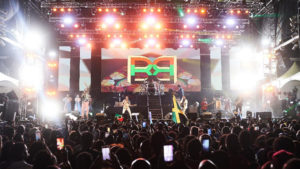 The 2019 St. Kitts Music Festival culminated on Saturday night, and is being hailed as a major success by the organizing committee, despite mixed reviews from concert patrons.
Speaking with Freedom FM on Monday, Festival Committee Chairman Damion Hobson gave his views on the overall execution of the three-night concert, now in its 23rd year.
"I think the 2019 Festival came off very well. We certainly achieved the numbers in terms of patrons attending that we wanted. For the most part it was an incident-free Festival. The shows all started on time; they did go on a little late because there were some technical difficulties we experienced but all in all I certainly think it was a fantastic Music Festival 2019."
The concert was held at a new venue this year, the Kim Collins Athletics stadium, which, based on initial public reaction was perceived as less than ideal for such an event. Hobson said once patrons came out on the first night, they were able to see the wisdom in the decision to host the Music Festival there.
"Initially people had a lot of concerns about it; I think once you got into the venue Thursday and experienced the overall logistics and décor you recognized we did a lot a lot of work to bring the venue up to where we needed to have it for the Festival.
"We had a problem with the dust; I guess we cut the field too late and so the grass never got a chance to grow back so that's certainly something we'd address for 2020 if we're going to be at the same venue. We were able to protect the track; they're actually power washing it this morning go make sure it's pristine and clean. They're collecting the garbage and breaking down all the equipment today so hopefully by Wednesday the entire stadium will be back to how it was before. So I want to thank everyone for coming out and trusting the Committee that choosing the venue for the 2019 Music Festival was a good decision."
Chairman Hobson said the feedback about the artistes' performance was generally positive. Skinny Fabulous, Popcaarn, Cocoa Tea, Ella Mai and of course Buju Banton were rated as stand out performances by most.
Following a post mortem, Hobson said the Committee would later this month hold a press conference to discuss some of the statistics and profitability of this year's Music Festival. He encouraged vendors and other service providers to submit invoices so they could be paid early. The Chairman also thanked patrons for their support and the Committee for the hard work making the Music Festival possible.