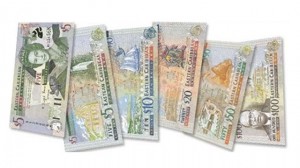 Antigua & Barbuda's debt to the Organization of Eastern Caribbean States (OECS) is in arrears of just over $4.8 million, thus curtailing its voting rights in the organization.
The seven countries which make up the body are each required to pay the organisation $182, 585 monthly to maintain membership, but Antigua & Barbuda has not made its contributions for about 27 months, as the quantum of the arrears show.
On September 12, 2014, the financial controller at the OECS Secretariat, Nicholas Devaux wrote to the country's finance ministry demanding the payments on arrears as of June 30, which amounts to about $4.4 million.
Additionally, Devaux asked that payments be made for July, August and September 2014, in addition to the debit memo fees of $13,979 for each month.
The official closed the demand statement saying, "Thank you for your prompt attention."
Prime Minister Gaston Browne yesterday told OBSERVER media the government would seek to address the matter soon.
"All I have to say is we have a lot to deal with. The United Progressive Party left everything in this country in arrears."
Browne did not say how soon the country would be able to make the payments and whether the funds would come from Treasury that government repeatedly says is "cash strapped."
Chief of Staff in the Prime Minister's Office Lionel "Max" Hurst described the development as "unfortunate" but could not state definitively whether the country has lost the right to vote on OECS matters.
OBSERVER media tried unsuccessfully yesterday to reach the Permanent Secretary in the Ministry of Finance, Colin Murdoch, who should have insight on financial aspect of the matter and its consequences.
According to Article 8 of the Revised Treaty Of Basseterre which established The Organisation Of Eastern Caribbean States Economic Union, a member state which is in arrears in the payment of its financial contributions to the Organisation "shall be deemed to be abstaining, and shall not be considered as present and voting, in all votes on matters falling for the OECS Authority's decision as long as the amount of that member state's arrears equals or exceeds the amount of the contributions due from it for the preceding full year, save that a majority of the other member states of the OECS Authority may permit the member state in arrears to vote."
The OECS Authority whose member states are represented by their Heads of Government, is the highest policy‑making organ of the OECS and is responsible for general direction and control of the performance of the functions of the organisation.