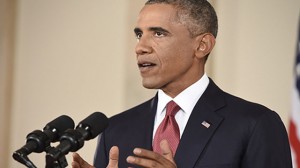 ATLANTA, United States (AFP) — President Barack Obama issued a global call to action to fight West Africa's Ebola epidemic yesterday, warning the deadly outbreak was unprecedented and "spiralling out of control", threatening hundreds of thousands of people.
Speaking as he unveiled a major new US initiative which will see 3,000 US military personnel deployed to West Africa to combat the growing health crisis, Obama said the outbreak was spreading "exponentially".
"Here's the hard truth. In West Africa, Ebola is now an epidemic of the likes that we have not seen before," Obama said.
"It's spiralling out of control. It is getting worse. It's spreading faster and exponentially. Today, thousands of people in West Africa are infected. That number could rapidly grow to tens of thousands.
"And if the outbreak is not stopped now, we could be looking at hundreds of thousands of people infected with profound political and economic and security implications for all of us."
As well as the military deployment, the US will also set up a command and control centre in the capital of Liberia, the hardest-hit country, build new treatment centres and train health workers.
The Ebola epidemic has killed more than 2,400 people in Guinea, Liberia, Nigeria and Sierra Leone this year.
The virus can fell its victims within days, causing severe fever and muscle pain, weakness, vomiting and diarrhoea — in some cases shutting down organs and causing unstoppable bleeding.
Meanwhile, the World Bank approved a $105-million grant, part of a $200-million pledge made in early August aimed at helping people cope with the economic impact of the crisis and strengthening public health systems.
"The world needs to do much, much more to respond to the Ebola crisis in these three countries," World Bank President Jim Yong Kim said in a statement.
The UN said if the international community and affected countries respond swiftly and energetically, transmission should begin to slow by the end of the year and halt by mid-2015.
"The level of surge we need to do is unprecedented. It is massive," the United Nations' Ebola coordinator David Nabarro told reporters.
China will send a 59-person mobile laboratory team from its Centre for Disease Control to Sierra Leone, including epidemiologists, clinicians and nurses — bringing the number of Chinese medics in the country to 174, the WHO said.
The EU, Britain, France and Cuba have also pledged to send medical teams and other aid to the region.
But this is far from enough, warned Joanne Liu, head of the Doctors Without Borders (MSF) charity.
Noting that the known Ebola toll "represents only a fraction of the real number," she stressed that "the ground response remains totally and lethally inadequate."
"The window of opportunity to contain this outbreak is closing," she warned.
The number of Ebola cases could start doubling every three weeks in West Africa, the World Health Organisation said yesterday, warning that the outbreak will cost nearly $1 billion to contain so it does not turn into a "human catastrophe".