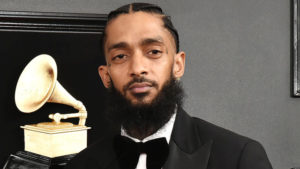 Nipsey Hussle's Celebration of Life was everything his fans wanted it to be and more.
The rapper, whose real name was Ermias Asghedom, was shot and killed on March 31 in front of his clothing store, Marathon Clothing, in Los Angeles. He was 33.
A week and a half later, Hussle's family, famous friends and fans convened at Staples Center in Los Angeles to give him a sendoff to remember. Speakers like his longtime love, Lauren London, and her son, Cameron, brought the audience to tears, while a letter from former president Barack Obama had fans feeling like Hussle was finally getting the respect he deserved after his years of service to his Los Angeles community.
While speaking with ET ahead of Hussle's memorial, Romeo Miller said, "Sadly, we live in a world where a lot of good people, the people who deserve the roses, they don't get them while they're here. That's why it's a hard time for everybody."
"He was a rapper who had a purpose. He wasn't just rapping to make music, he had a purpose," Miller said of Hussle, who was like a "brother" to him with all his work with his father, Master P. "We're not looking at this as devastation. Nipsey, he's living forever. Legends don't die."
"This is a real soldier that the world is going to miss," Master P added. "But the world is going to feel the joy forever."