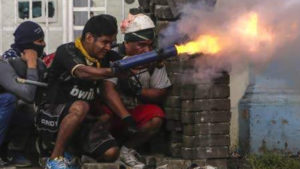 MANAGUA, Nicaragua (AFP) — A nationwide strike in Nicaragua on Thursday comes after two months of escalating crisis in which a government crackdown on mass protests has left more than 150 people dead.
The protests, first sparked by since-aborted pension reforms, quickly broadened into a rejection of President Daniel Ortega, a former guerrilla leader now seen as autocratic.
Here is what happened during the two-month-long popular uprising:
FURY OVER PENSION REFORM
On April 18 the Government presents a plan to increase how much employees and companies pay into the social security fund, while cutting benefits by five per cent, as recommended by the International Monetary Fund (IMF).
Student-led protesters in several cities vent fury at the plan. Demonstrations continue in the following days and are met with harsh repression.
They are the most significant protests in Ortega's 11 years in office.
Ortega scraps the pension reform on April 22 in a bid to end the demonstrations, in which 25 people have been killed in five days, amid clashes and looting.
UNLAWFUL KILLINGS
Withdrawal of the reform fails to pacify protesters.
On April 23 tens of thousands of people — workers, students, farmers and businessmen — demonstrate in the capital Managua demanding an end to the repression. Some call for Ortega to quit.
The United Nations on April 24 urges Nicaragua to carry out "prompt, thorough, independent and transparent investigations" into the killings during the clashes, saying a number may have been "unlawful".
Most of the dead are protesters, especially university students and youth.
ORTEGA LOSES FRIENDS
As the protests intensify, the army on May 12 distances itself from the president, saying it will not prevent people from demonstrating.
On May 16 tense talks begin in Managua between Ortega and Opposition groups, mediated by the influential Catholic Church, with the death toll rising to around 58.
Anti-riot forces and pro-government militias are blamed for much of the violence.
The Church calls off the talks after a week.
On May 29 the business sector drops Ortega. The employers' organisation Cosep calls on its representatives to immediately resign from management posts in State bodies and enterprises.
Amnesty International says Nicaragua is using paramilitary groups to suppress demonstrations.
On May 30 Nicaragua's richest man, Carlos Pellas, calls for early presidential elections.
Ortega vows to remain in power.
MANAGUA ERUPTS
On June 3, amid escalating violence centred on the flashpoint western city of Masaya, Pope Francis calls for dialogue.
More than 100 people are now estimated to have been killed in the protests, which are turning increasingly violent.
On June 7 the United States imposes visa restrictions on Nicaraguan officials, blasting the "political violence by police and pro-government thugs" against the population, particularly university students.
The following day Ortega meets with Catholic bishops but they fail to reboot talks.
Violence erupts in Managua on June 11 with anti-riot police and pro-government paramilitaries attacking barricades manned by anti-government protesters who wield slingshots and homemade mortars.
24-HOUR STRIKE
On June 13 Nicaragua's top civic alliance calls for a nationwide 24-hour strike the next day "in solidarity with the victims" of the unrest.
On June 14, hours before the strike begins, the bishops announce they will restart talks between opposing government and civil representatives the following day.
The death toll from the clashes since April 18 is at 152 people, according to the Nicaraguan Center for Human Rights (CENIDH), which also says 1,340 have been wounded.