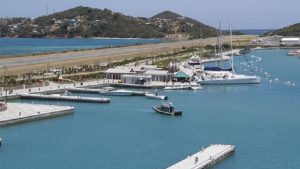 The Vincentian island of Canouan is now home to a state-of-the-art multi-million-dollar marina expected to transform the island into a major hub for yachting.
Glossy Bay Marina is being touted as the first super yacht marina in the eastern and southern Caribbean, with 120 berths, including 24 "super yacht" berths capable of accommodating yachts between 100 and 300 feet long.
"When full, Glossy Bay Marina will act as a host to nearly a thousand yachts people, professional crew, charter guests and owners. That is the equivalent of a 500-room hotel, bigger than anything else in St. Vincent and the Grenadines. Let us plan to work together to make this project a success for both its investors and the nation," Bob Hathaway, manager of the marina told the grand opening ceremony on Monday.
Irish financier Dermot Desmond, one of the major investors in the project, has already spent US$60 million and is on track to make a further investment of another US$25 to US$30 million this year and a similar sum over the next three years.
"I think our ambition and our plan is to create a marina set in botanical gardens and having a building here that will be one of the outstanding features in the Grenadines, that will be welcoming, architecturally brilliant and also will be a place the folks must come and visit on this beautiful island," Desmond told the opening ceremony.
Italian investor Antonio Saladino also pumped US$25 million into the project.
Chief executive officer of Glossy Bay Marina Ltd Elena Korach told the opening that 700 tradesmen had work on the construction.
"The contribution to the Canouan economy has been also significant," she said, adding that rentals alone amounted to a monthly bill of EC$130,000.
A beaming Prime Minister Dr Ralph Gonsalves is eyeing significant opportunities for Vincentians from the project.
"When the marina is finished, there are going to be opportunities here galore, there are already opportunities for Vincentian entrepreneurs. And they will work in conjunction with the management and leadership of this facility, this extraordinary facility, and I hope that some of those who would sell goods here to you, Dermot, and to the yachts, that some of them would really become rich.
"Not as rich as you, but be able to [earn] some money, which is part of developing an entrepreneurial class in our country. It's very important," Gonsalves remarked.