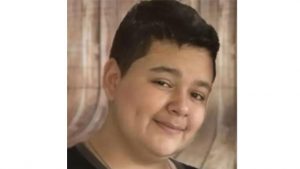 A Texas man who reportedly vanished eight years ago and was recently found was never missing, neighbours have claimed.
Twenty-five-year-old Rudy Farias made headlines over the weekend after it was reported he was found outside a church following his 6 March 2015 disappearance, his mother Janie Santana told ABC News. But in a shocking turn of events, neighbours of Ms Santana have now told the outlet that they were never aware Mr Farias was missing because they've often seen him in recent years.
"He used to come in my garage, chill with my cousin, son, and daughter," Kisha Ross told ABC. "That boy has never been missing … Sometimes he would go to the park by himself."
Ms Ross' cousin Broderick Conley also told the network that he knew Mr Farias as "Dolph," short for Rudolph and spent "laughing good times" when they hung out together. However, Mr Conley and Ms Ross said they haven't seen Mr Farias in recent years.
The Houston Police Department (HPD) earlier this week confirmed that Mr Farias has not spoken to detectives but is scheduled to be interviewed on Wednesday. Details about Mr Farias' disappearance or where he has been for the past eight years are now being investigated by HPD.
The news that Mr Farias had been found was first reported in a tweet on Saturday by the Texas Center for the Missing, which was handling public communications on behalf of his family. Ms Santana also said in a statement that her son was "nonverbal" and asked for privacy.
"What we do know is at the time of his recovery, a good Samaritan located him unresponsive and immediately called police and 911. My son Rudy is receiving the care he needs to overcome his trauma, but at this time, he is nonverbal and not able to communicate with us," the statement read.
According to the information featured on a Texas EquuSearch flyer distributed after he went missing, Mr Farias was last seen near Tidwell and Park Avenue in Houston around 6.30pm on 6 March 2015. It also said that Mr Farias was usually wary around strangers and was not carrying his asthma inhaler with him.
At the time of his disappearance, it was shared with the public that Mr Farias was diagnosed with depression, post-traumatic stress disorder and anxiety and had likely stopped taking his medication. He had previously suffered an injury to his right leg and walked with a slight limp.
In addition to experiencing mental health problems, Mr Farias had lost his brother to a motorcycle accident four years earlier in 2011.
Ms Santana local news station KHOU in 2015 that she had been desperately looking for her son, and claimed that HPD had told her Mr Farias may have been abducted and sold for human drug trafficking.
"He loves with all his heart, so that's why we know that he wouldn't just get up and leave on his own. That's not him," Ms Santana told the outlet as she fought tears. "It's a nightmare that you want to wake up from."
Then in 2018, authorities received a call from a relative claiming they had spotted Mr Farias behind their home, but officers who responded to the scene did not find him.