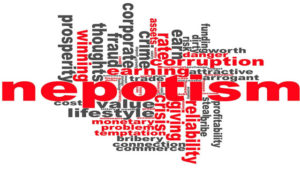 Kittitians and Nevisians have used the recent Donna Harris controversy to zero in on the high-level of nepotism and conflict of interest by Prime Minister Dr. the Hon. Timothy Harris.
The issue resurfaced Monday following the withdrawal of the prosecutorial team from the court room of Magistrate Donna Harris by the Director of Prosecution, Mr. Valston Graham.
Dr. Harris has positioned several family members in the High Court, the Magistrate's Court, the Prison, the Development Bank of St. Kitts and Nevis, the St. Kitts-Nevis-Anguilla National Bank, the St. Christopher and Nevis Social Security Board, the Sugar Industry Diversification Foundation (SIDF), the Payroll Division of the Human Resource Department of which he is the minister, government corporations and boards and the recently established Government Headquarters Security – where all the officers are persons from his constituency.
Dr. Harris' family members have also established family connected businesses in construction, trucking, heavy equipment operations, ice-making, rental of cars, tents, chairs, tables, landscaping and security.
"His niece in law (Sen. Akilah Nisbett) is deputy head of his party and also a senator in parliament. The worst nepotism in the region and no one is talking about it," a person wrote on Facebook in response to the uproar
Persons weighing on the Donna Harris issue.
Manita Mills: "I have been asking some of their supporters, this same question. How can a PM have his sisters in these top judicial positions? There should be a separation of powers and there is absolutely none. To all the hypocrites who see nothing wrong with this, remember we all must must die one day. Humble is the key. This is clearly a conflict of interest. That is why they could have paraded that police officer for a minor tragic offense. Mind you this officer wasn't driving when he was arrested, but tourists who assaulted their officers were given a smile and a pass. His sisters don't need to be there point blank."
Gloria Bradshaw: "His sister in payroll replaced someone with a master's degree. His sister only has a first degree. So let's talk about being qualified."
Cuthbert Dickenson: "Dothlyn Weekes, I agree with you. She's not the first incompetent magistrate in the region, however she's the first incoherent and incompetent magistrate in the history of St. Kitts and Nevis."
Royston Parry: "That's what happen when you have one family running the country it has to stop. People wake up and put a end to that bs."
Clinton Swanston: "Not good at all. Everyday carry bucket to the well, one day we know what will happen. Wha gone bad ah morning carn come good ah evening."
Ivor W. A. Henry: "She learn well from House Speaker (Michael) Perkins. Pour holy water on St. Kitts dear Lord."
Alston Percival Bradshaw: "We country not only need 'Holy Water' we need a new direction under a new leadership.