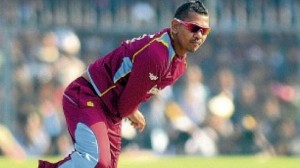 ST JOHN'S, Antigua, CMC — Off spinner Sunil Narine has withdrawn from the regional squad for next's month Cricket World Cup, the West Indies Cricket Board (WICB) confirmed on Tuesday.
The WICB announcement in the form of a release follows similar statements on social media by former West Indies players' association president, Dinanath Ramnarine.
Narine, widely regarded as one of the best spinners in the world, was banned for a suspect bowling action while playing in the Champions League Twenty20 Tournament in India last September.
"Narine has undergone intense remedial work on his bowling action and preliminary tests have shown him bowling all his deliveries under the 15 degrees flexion allowance," said the WICB statement.
"However he requires more time to be able to confidently bowl for a sustained period in international cricket with his new action".
Narine grabbed six wickets to help lead Trinidad and Tobago Red Force to a massive win over Guyana Jaguars in Sunday's Super50 finals and finished with 12 as the leading wicket taker in the tournament.
"Playing for Red Force and winning the NAGICO Super50 has been a big boost, but going in to the World Cup is a little too much too soon and, after consulting the WICB, for both West Indies and my sake we have decided to delay my return to international cricket until I am 100 per cent confident in all that I do," Narine said.
"Whilst I am very happy with the progress made to date with my action, and I express my thanks to the coaches working with me in Trinidad and Dr Daryl Foster in Perth, Australia, I am withdrawing from the World Cup."
The WICB says it supports Narine's decision to withdraw from the CWC squad since to risk his exposure to "the intensity of the Cricket World Cup would be both unfair to him and the West Indies squad."
WICB says a replacement will be named shortly.
In 52 one-day international appearances, Narine has taken 73 wickets at an average of 26.49 runs.