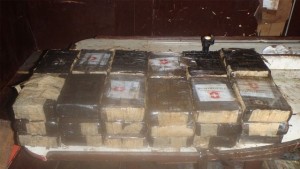 Three separate international and inter-agency counter narcotics operations, in the past week alone, resulted in the seizure of approximately 325 kilograms of cocaine, 600 pounds of marijuana and the apprehension of 15 suspected drug smugglers in the Caribbean Sea.
The drugs seized represent a total wholesale value of over US$10.1 million.
The operations that led to the seizures were carried out by the US Coast Guard, in conjunction with the US Drug Enforcement Agency, other US law enforcement officials, the Royal Bahamas Defence Force, Royal Bahamas Police Force and a Bahamian Drug Enforcement Unit.
"This is a great example of how the Coast Guard collaborates across multiple agencies to counter the efforts of drug trafficking organizations," said Lieutenant Ken Franklin, operations officer for the Coast Guard Cutter Dependable whose crew carried out the drug bust.
"This past week's success was the culmination of ongoing cooperative efforts across international borders and organizational boundaries."
The US Coast Guard said the vessels carrying the illicit cargo were likely headed to the United States.