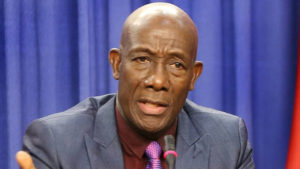 PORT OF SPAIN, Trinidad, Wednesday February 14, 2018 – A total of 13 people have now been arrested in connection with an alleged plot to disrupt Carnival in Trinidad and Tobago.
And Prime Minister Dr Keith Rowley has insisted that the threat was "no joke" and there are still serious security concerns about the security of the state.
Last Thursday, police reported that they had uncovered and thwarted the threat, with four men being arrested that day. Acting Commissioner of Police Stephen Williams said yesterday that in addition to detaining several more suspects – none of whom has yet been released – more raids were conducted.
At a media briefing following a Cabinet retreat yesterday, Prime Minister Rowley said the country still had to stay on the alert.
"As chairman of the National Security Council, we did have and we still do have very serious concerns about the safety and security of the state, and when the government sees it necessary to indicate that we are dealing with credible threats I just hope that citizens take that phrase very seriously," he said.
Some Trinidad and Tobago nationals have gone overseas to train with and fight with terror group, ISIS, and Rowley said "some of the training poses a threat to us" .
"We would be putting our heads in the sand if we do not acknowledge and accept that we as a people are part of the scourge of internationally unacceptable developments," he said. "This moreso in recent times when some of our citizens have taken positions that are alien to us as a people and are detrimental to the well-being of our nation if their teachings and actions are allowed to go unobserved or unchecked."
Asked if information showed there were further threats, the Prime Minister emphasized: "We must understand there are citizens in T&T who engaged themselves in and subscribe to ideologies and activities, which, if taken to their logical conclusion, can cause detriment to the people of T&T. We'd be burying our heads in the sand if we don't accept that."
Rowley also responded to claims from some of the Muslim community after mosques were searched in the police investigations, that the government was engaged in ethnic and religious persecution.
"That holds no water with respect to the security services responding to criminal conduct on the part of any and every person in TT. There is no policy, no programme to persecute any group, ethnic or otherwise in TT," he insisted.