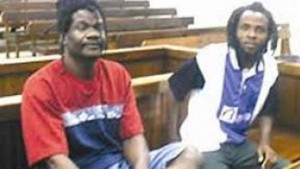 CASTRIES, St Lucia (CMC) – Two men accused of setting fire to worshippers 15 years ago, have been sentenced to life imprisonment.
After spending 14 years in jail during which a re-trial was held, the sentence was handed down on Friday in the High Court.
The men – Kim John and Francis Phillip – were sentenced in the aftermath of the December 31, 2000 tragedy in which they stormed into the Minor Basilica of the Immaculate Conception here, shortly after midnight, dousing worshippers with gasoline and setting them on fire.
They also bludgeoned Sister Theresa Egan, 73, to death while Rev Charles Gaillard, 62, died from severe burns to his body.
In all, close to a dozen worshippers suffered burns in the attack.
The men had pleaded guilty to manslaughter after the Privy Council overturned their death sentence for murder.
The crime is one of the most heinous in St Lucia's history.
The police said the men declared that they were Rastafarian prophets sent by God to fight corruption in the Catholic Church.