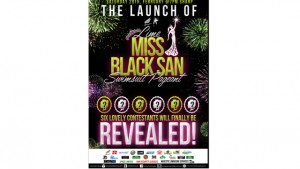 Sandy Point, St. Kitts and Nevis (February 24, 2015): Since the posting of a previous article which noted the impressive pool of contestants at this year's casting call, fans have taken to social media trying to guess who would be gracing the stage on March 29th as they compete for the title of Ms BLACK SAN' 2015.
The pageant, now in its fifth year is produced by SPIRIT (Sandy Pointers Inspiring Real Improvement Throughout) and have been title sponsored by LIME (St.Kitts-Nevis) since its inception in 2011. The official launch of the six stunning ladies vying for this year's crown will be held on Saturday February 28th at the Marshall's Restaurant located in Frigate Bay.
"It is through the continued support of companies such as LIME that we've been able to grow the pageant over the last five years to what it now represents. It has been an all-around beneficial partnership for everyone involved, but we are particularly pleased about the personal development initiatives which helps the process to serve as a launch pad for those contestants who may have aspirations of pursuing other pageantry endeavors" said Treasa Wyatt- Head Pageant Coordinator.
The locally renowned event has become a haven for fashionistas throughout the federation, and while the Ms BLACK SAN' Swimsuit pageant is a competition that has traditionally focused on the physical beauty of its contestants, the contest has evolved to incorporate a strong emphasis on the personality, intelligence, talent and creativity of its contestants.
"The thought of strutting your stuff in front of an audience in swimsuit can be daunting a prospect to many a pageant contestant. It involves getting the right swimwear, preparing your body, practicing your walk and public speaking classes just to name of few of the basic elements. The contestants ought to be encouraged and applauded, for it requires a huge amount of confidence to take part in a swimsuit competition" Ms Wyatt shared.
After weeks of rehearsals and social functions the sensational six will compete on March 29th in five segments including Vintage wear, Creative wear, Identical swim wear, Interview segment and last but by no means least, the crowd pleasing, draw-dropping Body paint segment.
There are still lots of opportunities for new sponsors, private donors and community groups to come on board. Visit www.blacksanbangalang.com and check out the news, more about SPIRIT and this year's sponsors there. Or better yet, be ahead of the game and get involved by searching 'Sandy Point SPIRIT' on Facebook, Youtube or Twitter, and let us know what you expect for this year's festival.
Black San' Bang-A-Lang is brought to you by SPIRIT and the support of: RAMs, SKNVibes, LIME, TDC, Carib Brewery (St. Kitts and Nevis) Ltd., S.L. Lighting Services,Tombstone International, TruCapo, Dollar Stretcher,SKN HVAC Services, Good Times Bar & Lounge, Jiggy Wine, St. Kitts Marine Works, WINNfm 98.9, FreedomFm, ZIZ Broadcasting Corporation, St. Kitts Auto Services, St. Kitts Marine Works, Radio St. Kitts and Nevis,E&K Enterprises, SPACS Ltd, H&H Security Services, Majestic Limousine Services, Vibes Beach Bar,JowDESIGNZ, Hungry Frog Productions and YOU!!!!