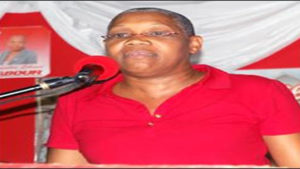 Basseterre, St Kitts, April 28, 2019 – The St Kitts-Nevis Labour Party (SKNLP) has labelled as "disrespectful" and "demeaning" the widespread television coverage of sanitary workers with minister of health Hon Eugene Hamilton just for a three dollars increase on their weekly wages.
"The rise from EC$381 to EC$384 each week works out to ten cents more per hour," said the Labour Party's Deputy Political Leader, Hon. Marcella Liburd, who condemned the public display of each worker walking up to the minister to shake his hand and take a photo.
Liburd, the lone elected female parliamentarian read from a first letter given to each worker which informed them of an increase without stipulating the exact amount.
"This letter serves as your official notification that your base 40-hour weekly wage will be moved into your appointed scale effective 1st February 2019. Please seek guidance from the assistant accountant to determine the breakdown of your salary. This salary increase is based on the restructuring and implementation of the corporation's new pay scale," said Liburd, who added that when the workers asked how much money they will now be receiving, the response was 'I do not know.'
She said in a second letter handed to the workers last week, the Solid Waste Management Corporation (SWMC) employees were informed that with the one percent wage increase they will now be taking home EC$384.80.
"The increase cannot even buy a bar of chocolate. This is the great increase that the public is hearing about on radio and television," said Liburd.
"This is disrespectful and demeaning," said Liburd.