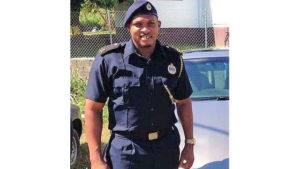 Suspended Senior Customs Officer and Accountant at Her Majesty's Customs and Excise, Leon Natta-Nelson said that over the few weeks he has had an experience that has fortified him in the belief that "whenever you show to the world that you are prepared to take a stand, the detractors, big and small get busy, to malign you, minimize you and try all manner of things to intimidate you and even to try to destroy you."
In a statement Monday on Freedom 106.5 FM's popular talk-show "Issues," Natta-Nelson noted that that during his seven years in that post he has exercised his duties "with the greatest competency and dedication to my country without favour to politics or politicians."
He confirmed he was arrested on October 10, suspended and now face disciplinary charges brought against him by the Office of St. Kitts and Nevis' Prime Minister Dr. the Hon. Timothy Harris.
"I was arrested for basically failing to renew my firearm license by the prescribed time within the St. Christopher and Nevis Firearm Act, section 44 subsection 5. That and only that was the basis of my arrest, which was confirmed by the press release of the Royal St. Christopher and Nevis Police Force. I must emphasize, that at no point was I charged with any other offence as had been erroneously reported on social media by mischief makers," Natta-Nelson said.
He told listeners that in the seven years he has built relationships not only with his colleagues at the Customs and Excise Department, but throughout various departments within the civil service.
"These relationships that I have built have propelled me to be a well-respected Senior Customs Officer in the eyes of many persons in the Civil Service and in the business Community. As a civil servant I understand that personal, professional integrity and loyalty to one's country and the Customs Organization are critical qualities if one desires to be a
successful and respected patriot," said Natta-Nelson.
He said also that he is not only a Civil Servant, but also a young man who has always been involved in all aspects of my community from sports to various other aspects of community development.
"Let me state that I will not be intimidated. I will not be cowed nor will I be detracted from the course set for me by God and whatever career path I choose as a responsible citizen," said Natta-Nelson, who also made it clear "to the people in and around my community, specifically in the village Molineux where I reside, that as a true son of the Community I will fight with every muscle in my body to right the wrongs, not only against me, but against many civil servants and citizens who have felt, and continue to feel, the brunt of the vindictive nature of this government. I desire only the best for my people."
Natta-Nelson said that for the last three years in St. Kitts and Nevis "civil servants – old and young – have been made to cower at the whims and fancies of a vindictive administration."
"Tyrannical leaders like the one we have, use organs of the state, such as the Public Service Commission and the Court as weapons to drive fear in the hearts of well-meaning civil servants. I have come here today to say that the repression and victimization of civil servants have to come to an end and it will come to an end," Natta-Nelson promised.
Natta-Nelson is tipped to be the St. Kitts-Nevis Labour Party candidate to oppose the sitting Parliamentary Representative for St. Christopher 7 (Ottley's to Harris), Prime Minister Dr. Timothy Harris.
A formal announcement of his candidacy has not been made.