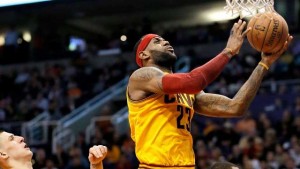 PHOENIX — LeBron James rejoined the Cavaliers and brought a lot of excitement with him.
Just not quite enough for a Cleveland victory.
James scored 33 points in his return from a two-week layoff but couldn't prevent the Cavaliers from going down to their sixth straight loss, 107-100 to the Phoenix Suns on Tuesday night.
James displayed his array of booming dunks, acrobatic drives and 3-point shots.
"I couldn't make those moves two weeks ago," he said. "For me to come back and feel like myself again is pretty cool."
Markieff Morris scored a career-high 35 points on 15-of-21 shooting for the Suns, who outscored the Cavs 11-3 over the last 3:31.
Morris refused to talk to reporters afterward, walking away from them in the locker room.
The Cavaliers rallied from a 19-point, third-quarter deficit to go ahead in the fourth, the first of eight lead changes down the stretch.
J.R. Smith, who joined the Cavaliers during James' absence, scored 29, going 8 of 14 on 3-pointers.
James, who took time off to rest his sore left foot and lower back, made 11 of 18 shots, 6 of 8 in the second half.
"I thought he was terrific," Cleveland coach David Blatt said. "It is not new for anybody. I just thought he laid it out there. That wasn't an easy thing because he hasn't played a competitive game in eight games."
The Cavaliers were 1-7 in James' absence and have lost nine of 10 overall to fall below .500 at 19-20.
But at least they have their superstar back.
" I thought I was going to run out of gas," James said. "Yesterday at practice my lungs were burning. I was able to get my second wind today. `'
The Suns, opening an eight-game homestand, have won 11 of 15.
Kyrie Irving, who averages 21 points, scored nine of 4-of-14 shooting for the Cavs.
Cleveland was down 80-61 with 3:26 to play in the third quarter, then finished the period with an 18-5 flourish.
He practiced for the first time since then on Monday, then flew to Texas to cheer on Ohio State in the national college football championship game. He said he got back at 12:30 a.m.
The Cavaliers survived a big scare in the first half.
With 9:12 left in the second quarter, James took an elbow to the head from Tucker and fell to the floor. He stayed there for a moment, surrounded by all his teammates, before slowly getting up. He stayed in the game, though.
James' first basket was a powerful reverse dunk from the baseline, then he ended the half with an equally impressive stuff, but the Suns led 59-51 at the break.
TIP-INS
Cavaliers: Kevin Love was on the bench throughout Cleveland's big rally and didn't play in the fourth quarter. … James made 5 of 7 shots in the fourth quarter, the rest of the team 4 of 15. … Irving had two in the first half on 1-for-4 shooting. .. The Cavs are 1-9 overall without James this season, 18-11 with him.
Suns: The Suns' eight-game homestand is the longest in franchise history. … Morris' previous high was 30 at Boston on Nov. 17. … Dragic and Morris were a combined 14-of-21 shooting in first half.