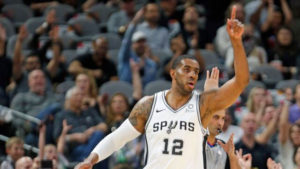 You can't get rid of the San Antonio Spurs that easy.
The second-seeded Denver Nuggets entered AT&T Center with a chance to close out their first-round series in Game 6 and advance to a Western Conference semifinals meeting with the Portland Trail Blazers this weekend, but not even a 43-point night from All-Star center Nikola Jokic could drive a stake through the Spurs.
San Antonio got 18 first-half points from LaMarcus Aldridge and 18 in the second half from DeMar DeRozan, as the two former All-Stars combined for 51 points, 17 rebounds and 12 assists in a 120-103 win to force a Game 7 on Saturday night.
"We had to come out aggressive. It was do or die — literally," DeRozan told the NBA on TNT broadcast immediately after the game. "We were on our home court, and it was on me to come out and be aggressive, and that's what we did."
San Antonio led throughout, save for a two-minute stretch late in the second quarter. The Spurs were able to keep the Nuggets at bay, holding a one- or two-possession lead throughout the third quarter, and then the hosts stormed out of the gate in the fourth on a 17-2 run, mostly fueled by their bench. The lead grew as high as 21 points before San Antonio finally called off the dogs in the final minutes.
The Spurs, who led the league in 3-point percentage (39.2) and made mid-range jumpers (10.8 per game), played Spurs basketball. They finished 10 of 23 from the 3-point line and a startling (even by their standards) 19 of 31 from mid-range to overcome a 72-36 deficit in the paint. The challenge is to replicate that in Denver.
"Game 7," added DeRozan. "Live for the moments. Lay it all out on the line."
Rudy Gay's 19 points off the bench helped the Spurs reserves outscore their Nuggets counterparts, 36-13. The performances of Aldridge, DeRozan and Gay were another reminder of the stark differences between the two teams. Even if these aren't the Spurs you're used to, they're still a veteran bunch, coached by Gregg Popovich in a system that has produced 22 straight playoff appearances.
The Nuggets, meanwhile, are the youngest team in the postseason, with a cadre of players and a coach making their playoff debuts. Game 7 is a different animal, and Saturday's game will be a real test of Denver's mettle, even if they'll be at home.
Popovich, as you might have guessed, was not about to celebrate early:
Jokic's 43 points set a new playoff franchise scoring standard, but sidekick Jamal Murray submitted another subpar shooting effort. The 22-year-old scored 16 points on 19 shots, carrying the so-goes-Murray-so-goes-Denver theme into Game 7.
"My performance is probably the best of my career," Jokic, who added 12 rebounds and nine assists, told reporters after the game, "but it was not enough."
Spurs center Jakob Poeltl set a moving screen on Murray that clipped the shooting guard's left leg. Afterwards, Nuggets coach Mike Malone said the Nuggets had previously alerted the NBA about Poeltl's questionable screens but fell short of calling this one dirty. Murray declined to speak to reporters following the loss. He was limping around the locker room in pain, per BSN Denver's Harrison Wind.
Confidence was still high for the Nuggets, at least from Paul Millsap, the most playoff-tested member of the Nuggets. "We'll take care of business," he told reporters after totaling 12 points on 6-of-10 shooting and adding four rebounds.
Meanwhile, when the Spurs head to Denver, they will also pack for the first two games of the conference semifinals, which would start for them in Portland on Monday if they win on Saturday. They, too, are expecting no less than victory.
"We're not going to pack for no reason," Gay told reporters after Game 6. "If I'm going to pack my clothes, I'm going to use them."
The Nuggets lost Game 1 at home, but have since won their last two games at the Pepsi Center. They can't afford to go 6 for 24 from 3-point range or see their bench finish 5 for 23 from the field. Home cooking is often a cure for both ailments, but these are the Spurs, and lord knows they're not going to make it easy on you.