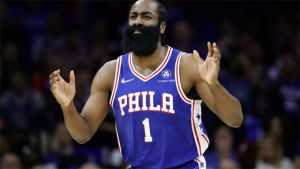 Jalen Brunson shook off foul trouble and scored 21 of his 27 in the second half, Julius Randle returned from an ankle injury to add 19 and the New York Knicks welcomed Cleveland back to the NBA playoffs by holding off the Cavaliers 101-97 on Saturday night in Game 1.
Brunson was limited to nine minutes in the first half, but hit several big shots down the stretch as the Knicks turned back Cleveland's late rally led by Donovan Mitchell.
Mitchell finished with 38 for the Cavs, who returned to the playoff stage for the first time since the 2018 NBA Finals. It's been a long road back for Cleveland, which wasn't as hurt by its inexperience as lack of bench production from the bench.
Josh Hart added 17 points — and hit a big 3-pointer down the stretch — for New York, whose reserves outscored the Cavs 37-14.
Jarrett Allen had 14 points and 14 rebounds for Cleveland.
Game 2 is Tuesday at Rocket Mortgage Fieldhouse.
KINGS 126, WARRIORS 123
SACRAMENTO, Calif. (AP) — De'Aaron Fox scored 38 points in his long-awaited playoff debut and Sacramento celebrated its return to the postseason after a record 16-year drought by beating defending-champion Golden State.
The first playoff meeting between the Northern California neighbors lived up to the hype and the inexperienced Kings closed the game strong against a Warriors team that won four titles in the previous eight seasons.
Curry hit a corner 3-pointer to give Golden State a 114-112 lead with about four minutes left, the Kings responded with seven in a row starting with a 3-pointer from Fox. The Warriors cut the deficit to one on a layup by Curry in the final minute. But Andrew Wiggins missed a corner 3 for the lead in the closing seconds of his first game in more than two months.
Malik Monk made two free throws to make it 126-123 with 2.9 seconds left. Curry missed a runner from 3 at the buzzer, giving the Kings their first playoff win since April 30, 2006, against San Antonio.
Monk finished with 32 points off the bench and Domantas Sabonis had 12 points and 16 rebounds.
Curry led the Warriors with 30 points, Klay Thompson added 21 and Wiggins and Poole scored 18 apiece.
Game 2 is Monday night in Sacramento.
CELTICS 112, HAWKS 99
BOSTON (AP) — Jaylen Brown had 29 points and 12 rebounds, and Boston capitalized on a woeful shooting performance by Atlanta in Game 1 of the Eastern Conference first-round matchup.
Jayson Tatum scored 25 points, 21 in the first half. Derrick White finished with 25 points and 11 rebounds for Boston, which hosts Game 2 on Tuesday.
The No. 2-seeded Celtics led by as many as 32 points, pouncing on an Atlanta team that missed its first 10 3-point attempts and shot 5 of 29 from beyond the arc for the game.
Dejounte Murray led the Hawks with 24 points, eight rebounds and six assists. Trae Young added 16 points.
76ERS 121, NETS 101
PHILADELPHIA (AP) — James Harden hit seven 3-pointers and had 23 points and 13 assists, NBA MVP finalist Joel Embiid scored 26 points and Philadelphia pushed back Mikal Bridges and Brooklyn in Game 1.
Tobias Harris added 21 points and the 76ers hit a postseason team-record 21 3s in the opener of this Eastern Conference playoff series. The Sixers are trying to win their first NBA championship since 1983 and advance past the second round for the first time since 2001.
The No. 3-seeded 76ers host Game 2 on Monday.
Bridges scored 30 points and helped the Nets at least hang around in the first half.
But Brooklyn's starless roster was no match for Embiid, Harden and a playoff-tested roster expected to make a deep run in the postseason. The Sixers had a sellout crowd of 20,913 in a frenzy from the opening tip, then blew the game open in the fourth.