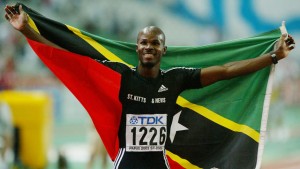 St Kitts and Nevis legend Kim Collins is hoping that his near three-year stand-off with the Kittitian track and field authorities is nearing an end as he hangs on to hopes of representing his country at this summer's IAAF World Championships in Beijing, China.
The 39-year-old 2003 100m world champion was expelled from the St Kitts and Nevis team at the 2012 London Olympic Games after officials said that the five-time World Championships medallist missed training sessions. Collins contended that he was merely spending time with his wife, but both parties have been at loggerheads since, with the sprinter missing subsequent world events such as the 2013 World Championships and the 2014 World Indoor Championships.
Collins told The Gleaner that it has been a tough few years for him but that there have been some positive signs that his 'exile' is coming to an end with the 2015 World Championships on the horizon.
"I honestly don't know what the problem is. I wish I could tell you, but I can't, but hopefully, we will get it solved. A lot of people have been trying to get it solved and I think we have the right people on board now, so I'm looking forward to getting whatever it is resolved," said Collins.
"There's a strong possibility that I will be at the World Championships (in Beijing), much better chance than in the past. You know when you have power it can be used for both good and bad, but we expect people to do the right thing," added Collins, who last year at 38 years old, ran his personal best 9.96 over 100m.
Collins, who said he is still amazed by what he has been able to accomplish in his long career, said he is planning to hang up his spikes at the end of next season.
"I'm still happy with the performances I have been putting in, and to be able to run with these young boys – 10 years younger than I am, it still amazes me," Collins said. "I still love it. I still love the excitement of putting on the spikes and coming to compete. I will definitely call it quits next year at 40 years old, though. I don't want to go past that. My kids are getting older and I'm missing out on a lot. I want to be home with them," said Collins.