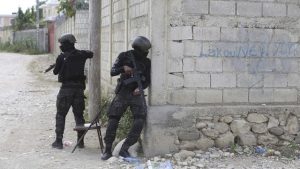 The government of Jamaica will be sending soldiers to Haiti as part of a multi-national peacekeeping force.
The announcement was made on Thursday by Prime Minister Andrew Holness during a media briefing.
According to Holness, his administration has always stated that it is ready to play its part in restoring peace and stability in the French-speaking Caribbean Community (CARICOM) member state.
"We said this when we spoke in Parliament, we have said it before and yes we are the first to say so….in fact, you could say that Jamaica's statement would have started an interest in the situation there," he said.
Meanwhile – earlier this week, the government of The Bahamas said it is committed to sending 150 persons to support a multi-national force in Haiti.
In a statement, the Ministry of Foreign Affairs said that The Bahamas would send the personnel to Haiti as part of the multi-national force "once authorised by the United Nations Security Council."
The pledge made by Jamaica and The Bahamas follows reports that Kenya it is prepared to lead such a force to Haiti as escalating violence between armed gangs and police is fueling a humanitarian crisis that has displaced tens of thousands of people.
Kenya is prepared to send 1,000 police officers to Haiti.