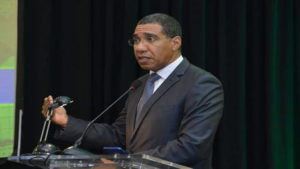 KINGSTON, Jamaica – Prime Minister Andrew Holness has condemned the attack by the Hamas group on Israel which killed hundreds of people.
"The Government of Jamaica condemns in strongest terms the attack by the Hamas group on Israel, resulting in the deaths, injury and abduction of Israeli civilians. We convey our sympathies to the Government and people of Israel and to the families of all those affected," Holness said in a statement posted to X, formerly Twitter.
Palestinian militant group Hamas launched a large-scale surprise attack against Israel Saturday, firing thousands of rockets from Gaza and sending ground units to kill or abduct people as Israel retaliated with air strikes.
More than 24 hours after the attack, Israeli forces were still trying to defeat the last groups of militants holed up in several towns. At least 700 people have reportedly been killed in Israel — a staggering toll on a scale the country has not experienced in decades — and more than 400 have been killed in Gaza as Israeli airstrikes pound the territory.
Holness called for a diplomatic resolution to the conflict while noting that there is no place for "violence and terror" in international relations.
"Jamaica firmly believes that the use of violence and terror has no place in international relations and should never be used against innocent civilians," Holness said.
"We call for a cessation of hostilities, a return to peace within internationally agreed guidelines and the pursuit of diplomatic solutions."