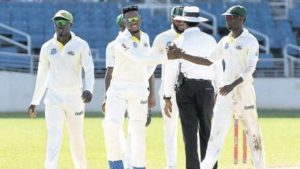 HOSTS Jamaica Scorpions, led by another terrific display from leg-spinner Damion Jacobs, wrapped up a 57-run win over Leeward Islands Hurricanes inside an hour on yesterday's final morning of the ninth-round regional four-day match at Sabina Park.
The 32-year-old slow bowler took three of the four wickets to fall in the session to end with 5-83 as the Hurricanes were bowled out for 204, chasing 262 runs for the win.
Jacobs, who was the main destroyer in the Hurricanes first innings while claiming seven wickets, had career-best first-class match figures 12-157.
It was his fourth haul of 10 wickets or more in a first-class match and 13th five-wicket haul overall.
Devon Thomas, who made 52, and opener Montcin Hodge, supporting with 45—both dismissed on Saturday's third day—were the main run-scorers for the Hurricanes.
Scores: Scorpions 197 (59.1 ovs) & 235 (59.1 ovs); Hurricanes 171 (78.3 ovs) & 204 (80.3 ovs).
Jacobs was pleased with the display after a lukewarm regional four-day season before the start of this game.
"I am glad that I put in the performance to help the team to victory," he told the Jamaica Observer in a post-match interview.
"Things haven't gone as well as I wanted this season, but 2018 has been good so far. I've tried to be more consistent because previously I think was trying too many things," the wrist-spinner explained.
The visitors' Captain Kieran Powell said the batting department let down the team throughout the match. He made special note of the shortcomings of the top-order batsmen when they began their run-chase on the third day.
"I don't think that we batted anywhere near to our potential, and I think that caused our demise in this match. A few of us — myself included — got out to long hops and a few other wickets to full tosses; some, very soft dismissals. The pitch was playing really well, the ball wasn't spinning as much as it was in the first innings or anything like that. We mostly gave our wickets away than them getting us out," Powell told the Observer.
The Hurricanes skipper also lauded the effort of pacer Sheeno Berridge, who took nine wickets in the match.
Earlier, the Hurricanes resumed at 9:30 am from their overnight score of 159-6 in mostly sunny conditions on a pitch that was quite docile after offering plenty of spin to the slowers bowlers on days one and two.
Wicketkeeper/batsman Jahmar Hamilton and lower-order batsman Jeremiah Louis were at the crease not out on five and three, respectively.
But the quest to gather the additional 103 runs for victory lasted only 58 minutes.
Hamilton went first without adding to his score. Part-time off-spinner John Campbell had him caught by Jermaine Blackwood at leg slip after the batsman tried to help along a delivery down the leg side at 161-7.
Louis and Mervin Mathew (11) held on stubbornly until Jacobs had his first of the morning and his 10th in the match. It came when Mathew went for a slog to the leg side against the spin of Jacobs, and could only sky a catch to Blackwood at wide mid-on.
Chaim Holder (two) played around a classic leg-spinning delivery and was bowled by Jacobs as the end drew nigh at 196-9.
And last man Berridge (one) dithered only briefly before he provided a return catch the West Indies A wrist-spinner, who made no mistake to stoop forward and grasp, and hand the Scorpions their third win this season. Louis was left unbeaten on 34.