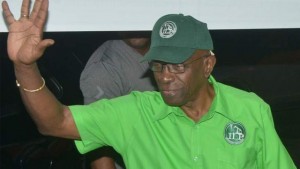 CORRUPTION accused Jack Warner will make his second appearance in the Port of Spain Magistrates' Court this morning since a provisional warrant was issued by the US Justice Department in May for his arrest and possible extradition to that country to face a series of charges related to his time as vice-president of the Federation Internationale de Football Association (FIFA).
Warner, who surrendered himself to Fraud Squad officers on May 27, after learning of the provisional warrant is currently on $2.5 million bail and will reappear before Chief Magistrate Marcia Ayers-Caesar in the Eighth Court.
Up to yesterday, the extradition request had not been received by the Office of the Attorney General's Central Authority Department, sources said, and as such, the matter is expected to be called and adjourned to a later date as the State await the receipt of the request.
The United States has 60 days in which to make the request from the time the provisional warrant was issued.
This country has since obtained the services of British Queen's Counsel James Lewis ans Allan Newman to appear alongside Senior Counsel Pamela Elder, Jagdeo Singh and head of the Central Authority Netram Kowlessar in the proceedings. The two Queen's Counsel were in this country yesterday and will appear in the matter for the first time today.
Warner has retained Edward Fitzgerald QC to head his legal team which include Fyard Hosein SC, Nyree Alphonso, Rishi Dass and Anil Maharaj.
Warner, the 72-year-old political leader of the Independent Liberal Party (ILP) has been indicted on charges of bribery, money laundering, corruption and wire fraud conspiracy arising out of investigations conducted by the US government. The offences were alleged to have taken place both in the United States and Trinidad and Tobago between 1990 and 2011.
Hours after he surrendered himself to local police, investigators carried out a surprise raid on a five start hotel in Switzerland, where FIFA officials had gathered two days ahead of FIFA presidential election. The seven FIFA officials who were arrested at the hotel also face extradition to the US.
Even though Warner was granted bail by Ayers-Caesar, he was made to spend the night at the Port of Spain prison on Frederick Street after he was unable to have the bail bond approved by a Clerk of the Peace at the court.
The following evening he was released from jail after the bond was approved by a Justice of the Peace. Warner left the prison in an ambulance after he complained of exhaustion from the night spent in jail. However, that same night Warner appeared on an ILP political platform at Endeavour Road, Chaguanas, and declared the "gloves are off" as he signalled his intention to reveal all against Prime Minister.