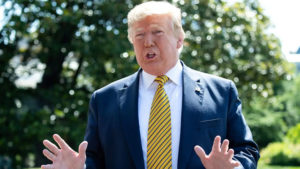 Former President Donald Trump insisted on Tuesday that he was not showing off classified documents in an audio clip first published by CNN in which he referred to "highly confidential" material and "secret information" that he could no longer declassify.
"I would say it was bravado, if you want to know the truth, it was bravado," Trump said in an interview aboard his plane with Semafor and ABC News. "I was talking and just holding up papers and talking about them, but I had no documents. I didn't have any documents."
The latest comments suggested a new potential legal argument from the former president: That he was overselling the material he was showing to an aide and people working on a biography of former chief of staff Mark Meadows in the recording, a transcript of which featured heavily in his recent federal indictment.
"I just held up a whole pile of — my desk is loaded up with papers. I have papers from 25 different things," he said, adding he kept relevant news articles about topics like Iran on hand.
At one point, Trump gestured to the seat next to him on the plane, where a stack of various papers — newspapers, copies of his speech, printouts of articles — sat. He grabbed some from the pile and placed them in front of him, moving them around as he spoke and offering up a physical reenactment of what he said was occurring on the audio tape.
Asked about his use of the word "plans" during a Fox News interview earlier Tuesday to describe some items he may have highlighted in the 2021 meeting, Trump insisted he was referring to "building plans" and plans for golf courses strewn about his desk.
"Did I use the word plans?" he said. "What I'm referring to is magazines, newspapers, plans of buildings. I had plans of buildings. You know, building plans? I had plans of a golf course."
Asked if he had any regrets about his handling of classified documents, Trump said he did not.
"No, I have no regrets," he said. "I didn't have a classified document. There was no classified document on my desk."
Asked whether the audio would affect whether he considers a plea deal, Trump said he was confident that the government's use of the Espionage Act to prosecute him would fail and repeated unverified accusations against President Biden before ending the interview.
"Frankly, that you even ask a question like that's a disgrace," he said. "So let's end it."
Room for Disagreement
National security attorney Bradley Moss told Semafor that a "bravado" defense, in which Trump claimed he was exaggerating the importance of papers that were not actually classified, could be a difficult sell in court.
"One, they're not charging him with retaining that document," he said in a text message. "Two, the relevance of the comments in the audio are they speak to Trump's intent and awareness of the limitations on his ability to have and share classified records. And three, I have no reason to believe Smith would have included this issue without getting clarifying testimony from the various witnesses."
Know More
Special counsel Jack Smith indicted Trump earlier this month on charges he mishandled classified documents after leaving office and obstructed the government's investigation. Trump has pleaded not guilty to the charges and accused the Justice Department of targeting him for political purposes. His prosecution, as well as that of one of his aides, Walt Nauta, is being overseen by Judge Aileen Cannon, a Trump appointee, in federal court in Miami. The Justice Department last week asked that the trial be delayed until December.
On Monday, CNN published an audio recording of a previously reported 2021 conversation in which Trump discussed secret Pentagon documents with a book publisher and writer. "These are the papers," he says in the tape. Trump told Fox News' Bret Baier in an interview that aired last week that he had been referring to newspaper and magazine stories, comments the new recording appeared to undercut.
Step Back
The classified documents prosecution is one of multiple legal threats Trump is staring down as he mounts his third bid for president. He has been charged by New York District Attorney Alvin Bragg in connection with alleged hush-money payments made during his 2016 campaign. Smith is also presiding over the Justice Department investigation into Trump's actions surrounding the Jan. 6, 2021, Capitol riot, while Fulton County District Attorney Fani Willis is investigating efforts by Trump and his allies to overturn the 2020 election results in Georgia.