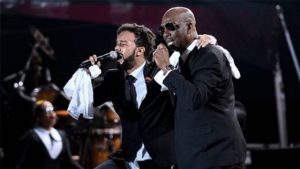 There will be no Soca Monarch competition this year in Trinidad and Tobago.
Geoffrey Wharton-Lake and Ricky Ragoonanan, directors of the Caribbean Prestige Foundation, the body behind the competition, told Loop News that they made a decision to cancel it this year.
The men said they spent the last 72 hours deliberating on the possibility of having the competition but made the tough decision to cancel because it is not financially sustainable.
"We can no longer carry the burden of what the event is," said Wharton-Lake.
Ragoonanan said the money offered to them by the Government was not enough to pay prize monies and execute the event.
"Soca monarch is the only stepping stone for new artistes but the Government has to see that, and if they don't see it fit, they killing the culture. The promoters are not bringing the new singers on stage, that is the only platform these guys have," said Ragoonanan.
He said to put on a good show they need resources.
Although they declined to reveal how much money they were offered and how much they requested, they did say that prize money alone would have been around $2.5 million.
Asked what they had planned for this year's event, Wharton-Lake said they tried to change the format and had a proposal to bring back past winners to compete with new singers.
He said the intention is for him and Ragoonanan to sit after Carnival with stakeholders and whoever wants to be a part of reviving the competition. He said if they do not get support for the show after that, they would walk away.
The men, however, praised National Carnival Commission Chairman Winston "Gypsy" Peters for going the distance with them.
"The chairman was 100 per cent supporting us, he real fight for us," said Ragoonanan.