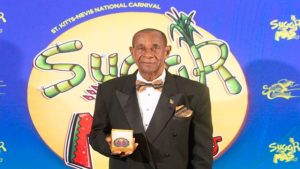 In a profound loss for St. Kitts and Nevis, Mr. Stanley Franks, Jr. MBE, MH, JP, a stalwart figure in the community, has passed away. His indelible contributions to the Federation spanned decades, leaving an enduring mark on various facets of civic life.
For an extraordinary 35 years, Mr. Franks, Jr. served on the Warner Park Committee, demonstrating unwavering dedication to the development of sports in the region. His leadership also extended to the Board of Directors of Cricket World Cup St. Kitts-Nevis 2007, where he played a pivotal role in hosting a globally acclaimed event.
Remarkably, he managed both a West Indies cricket and football team, leading the W.I. Youth to Canada in 1989 and a Caribbean Football Team to England in 1993. His exceptional managerial skills and deep-rooted passion for sports shone through in every endeavor.
In June 2020, Dr. the Honourable Timothy Harris, 3rd Prime Minister, commended Mr. Franks, Jr. for orchestrating a grand inauguration ceremony, a testament to his impeccable event planning abilities.
Beyond the realm of sports, Mr. Franks, Jr. left an indelible mark as the Director-General of CARIFESTA VII in 2000, a significant cultural event hosted in St. Kitts and Nevis. His influence stretched across various committees and associations, including Independence Celebrations, National Carnival, and St. Kitts Music Festival.
A distinguished educator, Mr. Franks, Jr. received numerous accolades, including the Independence Honours Award in 1985, the Medal of Honour in 1991, and an MBE in 2008. His profound impact on education was further acknowledged by the Chamber of Industry and Commerce, and Clarence Fitzroy Bryant College.
As a renowned costume builder, historian, and Carnival judge, Mr. Franks, Jr. embodied the spirit of St. Kitts and Nevis. His legacy as a national treasure and fervent advocate for his community will forever be etched in the hearts of those who had the privilege of knowing him.
In his passing, St. Kitts and Nevis bids farewell to an exceptional leader, mentor, and friend. Mr. Stanley Franks, Jr.'s legacy will endure as an inspiration for generations to come.