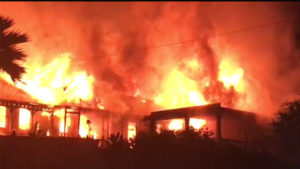 A landmark property went up in flames Monday night sending one of the residents to the hospital.
Fire Chief Everette Ogarro told Freedom FM that Fire and Rescue Services received a report that the John Gumbs property at the edge of Palmetto Point was on fire at about 6:48pm and jumped into action.
He said they met the fire in an advanced stage and it was so massive it took more than 3 hours to extinguish. A second Unit had to be dispatched from Sandy Point to assist.
The Fire Chief said the homeowner Mr. Gumbs had tried to extinguish the flames with a garden hose in the early stages and had to be transported to the hospital for treatment for minor injuries. Two other persons were in the residence when the fire started but were uninjured.
Fire Chief Ogarro said one of the female residents explained that due to a power outage they had started their personal generator and although smoke was coming from the device, they paid no attention to it. Sometime later they smelled smoke and realized the home was on fire.
The Fire Chief said an investigation will still be conducted to determine the cause of the blaze.
He advised persons to ensure they store and maintain generators properly.