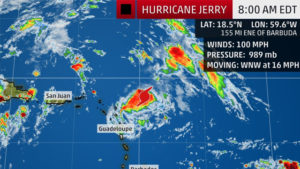 St. Kitts and Nevis has again skirted any substantial storm impact as Hurricane Jerry is forecast to pass a safe distance of over 100 miles to the north of the Leeward Islands by Friday evening.
Jerry has strengthened to a category 2 storm with maximum sustained winds of 100 mph with higher gusts and is moving WNW at 16 mph.
As at Friday morning the storm was located about 200 miles east northeast of the Leewards. A west-northwest to northwest motion at a decreasing forward speed is expected over the next few days.
A gradual weakening trend is forecast to continue Friday, but Jerry is expected to remain a hurricane during the next few days.
There are no watches or warning in effect for the Leeward Islands, however local weather officials are warning residents that cloudiness, showers and gusty winds associated with the system could move across the islands Friday to produce heavy showers and thunderstorms. Swells generated by Jerry are already affecting portions of the northern Leeward Islands which are likely to cause life-threatening surf and rip current conditions.
As a precaution, mariners are asked to stay in port and avoid the beaches until Jerry passes. Interests in the Leeward and British Virgin Islands are still being urged to closely monitor the progress of Jerry and review hurricane preparedness plans.
A Tropical Storm Watch is however in effect for…
* St. Maarten
* St. Barths
* Saba and St. Eustatius