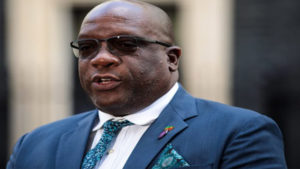 Basseterre, St. Kitts, February 13, 2019 – Three murders in four days in St. Kitts may have prompted Prime Minister Dr. the Hon. Timothy Harris to hastily cancel his monthly press conference scheduled for today, Wednesday.
The cancellation was announced Tuesday after a week of promotion.
Kyss FM news Tuesday said the killing of Eric Thompson gunned down on Monday night "sent shock and fear in the community and around St. Kitts and Nevis as residents try to deal with the emotional weight of a third murder in St. Kitts, in four days."
There is also speculation that the cancellation of Harris' press conference could be due to several other issues including the international scandal that continues to engulf the St. Kitts and Nevis Citizenship by Investment Programme and the failure of the Ritz Carlton and the Six Senses resorts to begin construction on St. Kitts as previously announced by Prime Minister Harris. Harris said last year the Six Senses was to begin construction and employ between 300 and 500 workers in the construction phase in September of 2018
Dr. Harris could also be avoiding questions over the recent disclosure by the Barbados-based Caribbean Development Bank (CDB) that St. Kitts and Nevis is not in the top three leading economies in the Caribbean in the face of previous remarks by Prime Minister Harris last year that St. Kitts and Nevis was leading the region with a projected near five percent growth rate.
The disclosure by the CDB also comes at a time when Dr. Harris has blocked the publication of the IMF Report on the state of the St. Kitts and Nevis economy.
Dr. Harris could also be avoiding reporters' questions on the DPP's withdrawal of his prosecutors from the courtroom of his sister Magistrate Donna Harris.