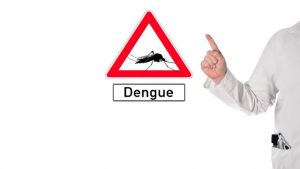 Dr Frank Anthony has confirmed that two children, including a nine-year-old child, have died after being infected with dengue.
The children had been receiving treatment at the Intensive Care Unit (ICU) of the Georgetown Public Hospital and Dr. Anthony said no other child is receiving critical care after being infected with dengue.
Media reports here said that one of the two children who died was a primary school pupil from Region Three (Essequibo Islands-West Demerara), who spent five days in the ICU before passing away.
The other child who died was 11 years-old.
Based on official figures, an estimated 3,453 people in Guyana have been infected with the mosquito-borne disease so far this year, with 2,169 cases considered to be still active patients.
Anthony said that local authorities have been fogging all areas to prevent people from being bitten by mosquitoes and that a substance used to kill mosquito larvae is also being distributed.
The symptoms of dengue include high fevers, head and body aches and nausea.