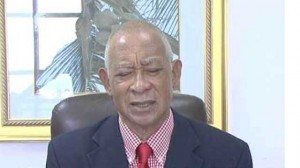 ST JOHN'S, Antigua – Government's Chief of Staff, Lionel "Max" Hurst, said Antigua & Barbuda is unlikely to go down the same road as St Kitts & Nevis with regards to a recently imposed Canadian Visa requirements.
As of noon on November 22, 2014, the Canadian government implemented a Visa requirement for citizens of St Kitts & Nevis, who are travelling to Canada.
According to a report in the Toronto Sun, Canadian authorities believe people with ties to terrorist organisations and organised crime are using St Kitts & Nevis passports obtained via that country's Citizenship by Investment Programme (CIP) to avoid immigration screening.
But, in an interview with OBSERVER media, Hurst said the due diligence clause included in Antigua & Barbuda's CIP agreement, would filter out any unsavoury characters attempting to get an Antiguan and Barbudan passport.
"We believe that the due diligence undertaking by our agencies abroad is sufficiently well done that the likelihood that someone who is a criminal becoming a citizen of Antigua & Barbuda is negligible or zero," he said.
The chief of staff said that, so far, the agencies commissioned to perform due diligence checks, which he said are stationed in nearly every country, have been extremely accurate, and government expects that trend to continue.
"Those people (who are) not Antiguan by birth who become Antiguan by one mean or the other, there's every possibility that something could go wrong, but we have done our due diligence, and therefore, we believe that not much will go wrong, if anything at all," he said.
Hurst suggested that those who gain Antiguan and Barbudan citizenship via the CIP are hardly any different from naturalised Caricom nationals.
Antigua's CIP was first introduced in 2012 and was initially opposed by the then Antigua & Barbuda Labour Party opposition. The party has since made amendments to the arrangement, reportedly in order to strengthen it, since taking office in June.
In 2013, it was reported that Iranian national named Alizera Moghadam was denied entry into Canada with a St Kitts-Nevis passport, which he allegedly acquired for $1 million through that country's CIP.