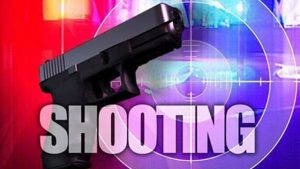 A man is now in police custody following yesterday's brutal slaying of two men in an early morning gun attack, which also left two underaged boys and a dog with gunshot wounds.
Thirty-year-old cook Julio Daniels, and his 34-year-old brother-in-law Fabian Atkinson were shot dead by a group of men who stormed their home on Francis Lane in Rose Town, Kingston about 4:40 am after kicking in the door.
According to residents, Daniels was killed inside his cookshop and Atkinson was shot inside his room in front of his female companion while holding his baby in his arms.
A 14-year-old boy, who has since been hospitalised, was also shot in his hand and side while a 12-year-old boy received a gunshot wound on his finger.
The youngsters being injured follows a series of incidents in which children have been shot, including the killing of nine-year-old Kela Young in St James; the injuring of a 15-year-old boy in Tavares Gardens and a 10-month-old baby in Cockburn Gardens; the shooting death of 10-year-old Taysha Hughes; as well as the injuring of a 12-year-old boy on Fleet Street in Kingston, 10 days ago.
However, the police believe that the latest double murder is linked to an ongoing feud between members of the Raspberry and Rat Bat gangs.
According to head of the police's Corporate Communications Unit, Superintendent Stephanie Lindsay, the police believe the gunmen went in search of a man, believed to be a member of the Raspberry Gang. However, when they did not find him they fired shots on the two men who were present.
She said the number of killings in West Kingston, St Andrew Central and St Andrew South police divisions have been attributed to feuding between members of both gangs, who are playing "tit for tat" as it relates to the murders.
Both gangs are reportedly fighting for control of the Sunlight Street, Trench Town, Maxfield Avenue, and Gem Road areas.
However, following closely on the double murder, Inspector Earl Grant of the Denham Town Police Station told the Jamaica Obsever that the police have gathered intelligence which has led to the arrest of one suspect.
Hours after the murder yesterday, Grant and his team were seen carrying out house-to-house searches for additional suspects and the murder weapon in the community of Gem Road.
In the meantime, family members of the dead men were overwhelmed with grief when the Observer visited their home yesterday.
Daniel's father, Lester, who was visibly shaken up, said he was inside his room sleeping when he heard the explosions. He recounted that he called out for his son but instead of him answering, his other son showed him Daniel's body lying in front of his shop.
When asked how he was coping, Lester said: "Bwoy, I don't know how I [am] standing up."
Lester said he has seen relatives of friends and neigbours killed before, but has never experienced it so close to home.
However, he said: "All wah a gwaan dem nah do nutten about the murders dem wah a gwaan because the same thing a happen every day, the only thing is that it just nuh reach close to you yet.
"Dem shot all one dog wi have, fi what? I don't know," he said, while shaking his head.
When asked what he believed should be done to stem the murders the grieving father said the Government should resume hanging.
"Start hang back man. do like Fidel Castro; him ketch dem dis morning and night naa ketch dem alive cause him say him, nuh ave no money fi feed dem," Lester said.
According to the father of eight, of which Daniels was the youngest, his son was a very quiet person.
"He will sit dung for the whole day and don't mek a sound," he said.
Residents also painted a similar picture of Daniels, who was called "Ulio".
"Ulio nuh trouble people, anything him want him ask him father. Dat deh bwoy not even come a road," one woman said.
Daniels' sister and companion were so overcome with grief they could not bring themselves to speak to the Observer.
The residents said the two minors were shot after they, along with their mother, ran from the house and was fired upon by the gunmen.
The residents said they have no idea about the motive behind the shooting, as they are not aware of anyone in the area being involved in any dispute with others from outside.
However, they say they are fearful and that some residents have already moved out of the area.
"We a live in fear and when we call 119 we can't even get through," another woman said. "Right now we a live in a fear but mi nuh ave no wey fi go, so mi just ago pray to God and go to sleep."
Meanwhile, councillor for the area, Neville Wright (Trench Town), said he was saddened by the death of the men whose family is known to him.
"I feel really emotional. I know some members of the family and I was able to sit and pray with the mother," he said.
Wright added that the children and adults in the community are traumatised but reasoned that people have to start getting the message that "these brutal killings are not right for building communities".