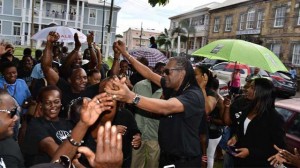 Freedom Fm has been served with two law suits. Both law suits filed by ousted St Kitts Nevis Labour Party Senior Mp now Leader of Opposition Alliance known as Team Unity Hon Dr Timothy Harris, allege that Freedom Fm assisted in defamation and slander while bringing the reputation of the claimant into disrepute during public meetings held by the St Kitts Nevis Labour Party in 2013. Law suits also named the Prime Minister of St Kitts and Nevis the Rt Hon Denzil Douglas, Education Minister Hon Nigel Carty and Charles Jong. This is the fifth Law suit brought against Freedom Fm by members of Team Unity. Dr Harris joins Lindsay Grant, Mark Brantley and Dwyer Astaphan.
On Good Morning St Kitts and Nevis on Thursday host Maurice Flanders spoke to founder and CEO of Freedom Fm Juni Liburd, who gave an update on what was to take place in the high court on Thursday. He thanked the loyal freedom family for prayers and support.
Dr drew the special guest on the program also spoke to the law suits. Drew the St Kitts Nevis Labour Party candidate for Constituency #8, indicated that Freedom had opened its doors to persons of all political sides. He contended that the law suits were indicative of a pathetic ploy in an effort to muzzle Freedom Fm specifically and by extension the media and democracy.
Hundreds of freedom family supporters came out in a show of solidarity against the on going threat to stifle freedom of the press. Supports were all dress in black wearing black t shirts with the powerful words let freedom reign. At 8:45am marchers proceeded east along Cayon street turn on to West Independence Square Street all the while passionately chanting "Let Freedom Reign."
After the court proceedings Juni Liburd explained the out come of Thursday's sitting.
Lawyer Sylvester Anthony also spoke to Freedom FM on the case.