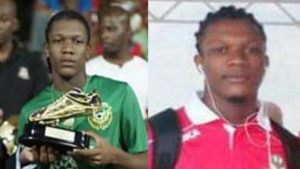 The footballer accused of stabbing a member of an opposing team member after a match on Saturday evening has been charged with attempted murder.
24 year-old Glenroy "Ballie" Samuel of Conaree was on Wednesday morning charged with the attempted murder of 22-year-old Raheem "Pipe" Francis of Cardin Avenue, a member of the Rams Village Superstars.
According to police investigations revealed that approximately 10 p.m. on Saturday, Raheem Francis of St. Johnson Village was stabbed in the abdomen with a knife by a male who then fled the scene in a vehicle. Francis was taken to JNF General Hospital where he was rushed into surgery and is warded in a critical condition.
Sources have revealed that Francis and a player from Sol Island Auto Island Conaree football club had a small altercation on the field during the last match at Warner Park on April 20. When the match ended, Francis was leaving the stadium in the company of another male when he was attacked by the Conaree player and stabbed in the abdomen. The perpetrator allegedly hopped into a waiting vehicle and fled the scene.
Police continue to appeal for information relating to the incident.