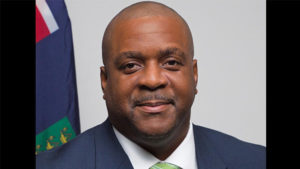 A Florida High Court judge has agreed to move the start date for the drug and money laundering trial for former premier of the British Virgin Islands (BVI), Andrew Fahie, who was meant to stand trial in mid-July.
Fahie, 52, is charged with one count of conspiracy to import a controlled substance, conspiracy to engage in money laundering, and attempted money laundering.
This is in addition to a subsequent charge of Interstate and Foreign Travel in Aid of Racketeering that was added in early November last year.
Last week, Fahie filed a third unopposed motion through his attorney, Theresa Van Vliet, requesting to have his trial moved to a date past November 1.
In his motion, Fahie cited various new developments as well as the court's refusal to disclose the identity of a confidential source as reasons for the requested delay.
Van Vliet told the court that there was insufficient time to file motions, permit the prosecution's response and any reply, and give the Court time to consider the matter or have an evidentiary hearing ahead of the previously slated July 17 trial date.
In a paperless order issued last Friday, Judge Kathleen Williams agreed that Fahie's jury trial will now be held before her Miami Division Court on January 8, 2024.
"The court finds that the ends of justice served by granting this continuance outweigh the interests of the defendant and the public in a speedy trial," Justice Williams stated in the order.
Fahie's two co-accused — former BVI Ports Authority boss Oleanvine Maynard and her son Kadeem Maynard — both pleaded guilty to a single count of conspiracy to import cocaine and promised full cooperation with prosecutors in exchange for lenience from the court at sentencing.
As part of Oleanvine Maynard's plea bargain, US prosecutors agreed to drop four other counts, including money laundering and racketeering.
For Kadeem's cooperation in the plea agreement, prosecutors determined that he was a "minor participant" in the criminal activity, and therefore should receive a two-level reduction at sentencing.
Both Maynards face a mandatory minimum term of 10 years imprisonment unless either defendant is 'safety valve eligible'.
A "safety valve" is an exception to mandatory minimum sentencing laws. It allows a judge to sentence a person below the mandatory minimum term if certain conditions are met.
The duo is now expected to be sentenced on August 21 while Fahie remains in home confinement with his two daughters on a US$1 million bond ahead of his January trial date.