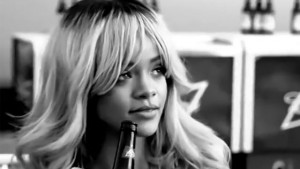 CALIFORNIA, United States, Tuesday March 17, 2015 – A feature-length documentary on Barbados' pop princess Rihanna is in the works via a newly-formed production company Film 45, founded by Lone Survivor director Peter Berg who directed the singer in her big-screen debut, 2012′s Battleship.
The film will be a "contemporary take on the 1967 Bob Dylan rock doc Don't Look Back," which covered Dylan's 1965 tour of England, reports Deadline.
Deadline went on to describe the as yet unnamed documentary of the Diamonds singer as an "unfiltered look into Rihanna's life and how she's ascended to become a global icon."
Berg told the site he liked the idea of examining "a young artist at the top of her professional field" and said the project will be "much more a character study than a music film."
There's no word yet on when the documentary will be released, "but odds are it'll be after her upcoming album, which hopefully is on the way very soon," according to MTV News.
The Talk That Talk girl hasn't dropped an album since 2012, but earlier this year released the single FourFiveSeconds with Kanye West and Sir Paul McCartney, which the threesome went on to perform live at the Grammys.
Last week saw the emergence of a clip of her song "Dancing in the Dark," from the film "Home," as well as a 30-second preview of a new track.
Berg, who currently heads the TV and film production company Film 44, has reportedly created the new production company Film 45 to focus on similar non-scripted and branded entertainment for film, TV and other platforms.
Film 45 formalizes a partnership between Berg and TV/documentary producer Matthew Goldberg (CNN's The Sixties), who have been working together on Berg's HBO Sports series On Freddie Roach and State Of Play.
Santa Monica-based Film 45 is currently in production on an eight-episode second season of State Of Play for HBO, which again explores controversial topics in sports and their relevance to society. Among the issues tackled in Season One were the struggles of retired NFL players.
Recently, Film 45 set up an eight-part documentary series at the History Channel, where Goldberg previously worked on the Gettysburg documentary. In the vein of Berg's box office hit Lone Survivor, the series, which will premiere in the fall, will detail heroic first-person accounts by US Special Forces.
Whether they are feature-length or made-for-TV, Film 45's projects "will fit the style and the aesthetics of our brand which, for most part, is cinema verite," Berg told Deadline.
Added Goldberg: "We are telling authentic, soulful stories."
Meanwhile, Film 44 is gearing up for production on two movies this year, Deepwater Horizon and Mile 22, as well as the HBO series The Leftovers and Ballers for TV.