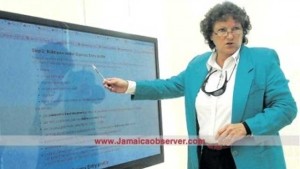 HIGHLY skilled and qualified Jamaicans are being urged to take advantage of Canada's new Express Entry immigration management system which was launched at the start of the year and aims to attract 181,000 new economic immigrants.
At the same time, an appeal is being made for potential candidates to get their credentials assessed and apply for the necessary documents and professional Canadian licences in anticipation of being invited to apply for permanent residence in the North American country, which is ranked as one of the best places to live.
"People have to be serious about this. You have to take ownership of your future in this system. It's a process to get your name in the system," said Counsellor Kate O'Brien, who is based at the Canadian High Commission in Kingston.
The Express Entry system, according to O'Brien, acts as a "front door" to Canada's well-known Federal Skilled Worker, Federal Skilled Trades, and Canadian Experience Class economic immigration programmes. However, it is void of a list of eligible occupations and, as a result, allows any skilled individual to apply.
With the new system, individuals are required to submit online profiles and express their desire to immigrate to Canada. Candidates who meet the minimum requirements are accepted in a pool and ranked according to several factors, including their age, education, language proficiency, and Canadian experience.
Candidates with the highest ranking are invited to apply for permanent residence in Canada. The pool is open to Canadian employers and a job offer to candidates features highly in their ranking — accounting for nearly half of the maximum 1,200 points. However, O'Brien said it was too early to determine the chances of success for applicants who do not have a job offer.
There is no window in which individuals have to submit their profiles, however, there's a 60-day period within which all documents must be submitted once candidates are invited to apply for permanent residence.
Profiles are kept in the system for up to 12 months and, if no invitation is made, individuals are allowed to re-apply.
"We want a pool of immigrants that fit the labour market needs," O'Brien told journalists at a meeting at the high commission in Kingston yesterday.
"…The Government of Canada is seeking immigrants that will enhance Canada as soon as they can. And, we've had processes in the past that focused on once you've applied then eventually your application will be looked at. But what we need now is a client base and potential… immigrants who fit the labour market needs," she added. "And that's fundamentally the objective. [Canada is] an immigrant-receiving nation; we have been an immigrant-seeking nation. This is how we began and this is who and what we are about."
O'Brien emphasised that once an invitation for permanent residence is made, the 60-day period for the submission of required documents must be adhered to.
"Sixty days is 60 days. It is not 62 days, it is not 64 days, it's 60 days," she stressed.
"You better be ready," O'Brien declared.
Meeting the 60-day requirements will, however, be dependent on the readiness of candidates in terms of the necessary documentation. These include police records, proof of English Language or French proficiency, medical results, professional certification and educational credential assessment reports from approved Canadian bodies. She said Jamaicans need not worry about the Canadian equivalency of their credentials once they have been received from a recognised institution.
Asked whether Jamaicans who are already studying in Canada are at an advantage of being successful under the new system, O'Brien said not so, save for the omission of the cost of getting their credentials assessed.
Canada has admitted more than 1.6 million new permanent residents since 2006, and will admit between 260,000 and 285,000 over the course of 2015.