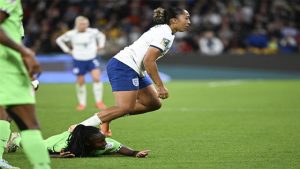 SYDNEY (AP) — England midfielder Lauren James was handed a two-match ban Thursday following her sending-off against Nigeria in the round of 16 at the Women's World Cup.
James was red-carded for violent conduct after standing on Nigeria defender Michelle Alozie.
She will now miss the quarterfinal match against Colombia in Sydney on Saturday, and a possible game in the semifinals.
James has been one of the stars of the tournament, scoring three goals and providing three more assists as England advanced as Group D winner.
She has apologised for her conduct in getting a red card.
"Obviously she's disappointed with what happened on the day," England forward Beth England said. "It was a split second, emotional moment that happened. We've got around her. It is good that she's acknowledged that and put her apology out and now we just wait to see what FIFA do and we just move on from it now."