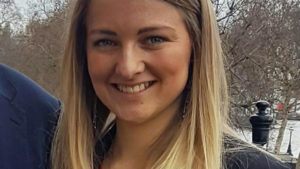 A Labour parliamentary candidate has claimed she was drugged and raped in a "politically motivated attack", in a statement published on her Facebook page.
Emily Owen said she did not report the crime to police without elaborating why.
But the 25-year-old, who is the party's candidate for Aberconwy in north Wales, said she had been inspired to speak out after left-wing columnist Owen Jones was attacked outside a London pub last month.
Three men have been arrested in connection with that attack, on suspicion of violent disorder and assault occasioning actual bodily harm. They remain in custody.
"That was the tipping point to speak publicly about this," Ms Owen wrote. "It was made clear to me that my attack was politically motivated."
She added: "I've also chosen now to speak about this as candidates and MPs up and down the country from all parties, including myself, are being subjected to horrific abuse daily, and it's absolutely not acceptable. Recovery is a process. I'm within that journey, I turned my anger into forgiveness of my rapist."
Addressing Boris Johnson, she wrote: "The far right see you as their leader."
She added that people were being "attacked, raped and murdered" for holding a different view to the prime minister and Brexit Party leader Nigel Farage.
"I am going to do everything I can to get you and your far-right rhetoric out of office, but in the mean time please show some real leadership," she wrote.
Responding to her post, Diane Abbott, the shadow home secretary, said she was "so sorry to hear this has happened to you."
She added: "It is incredibly brave to speak out the way you have, and I know it will be a source of support and inspiration to others. Solidarity."
Owen Jones also praised the 25-year-old for her bravery.
"Horrific, but horrendously courageous by Emily Owen – who wants to speak up for people who don't have their voices heard," he tweeted.
Ms Owen previously spoke out about facing sexism after being appointed the Aberconwy candidate in 2017.
She said she had been flooded with crude messages after launching her campaign.
"Emily has consistently spoken out against the sexism and misogyny she has encountered, including in the media, as a candidate," a Welsh Labour spokesperson said. "No woman should face such abuse. Her story will resonate with many, and we are united in working for a politics and a society that is inclusive and safe for all women."
The Independent contacted Ms Owen and was told she had nothing further to add to her post.