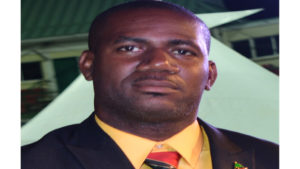 Minister of Education, Deputy Prime Minister Shawn Richards is giving assurance that the mold concerns at the Cayon High School are being addressed.
Teachers at the rurally located high school staged a demonstration outside the facility on Monday to bring attention to the potential health risk.
One source says the presence of mold was detected months prior when teachers began falling ill, and the matter was brought to the attention of the Ministry of Education.
While it was confirmed that air quality tests had recently been carried out at Cayon High, the teachers claimed they have not received the results to know if the environment is okay to occupy when school re-opens next week.
Speaking with Freedom FM Wednesday, Minister Richards:
"The fact is that the Ministry has been addressing this matter over the the last two to three months. Various levels of work have been done and meetings were held with the staff. The Bureau of Standards has been also involved in the matter in conducting testing and this is ongoing. Only two areas were identified as cause for concern and both areas are being continuously addressed. The Ministry will not compromise the health of anyone whether students or staff at Cayon High School."