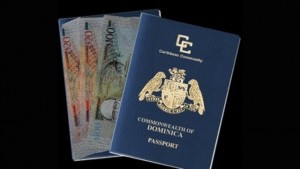 Businessmen who received citizenship under Government's Citizenship Program (CIP) in Europe and Asia are expected to visit Dominica soon to assist in areas in need.
Speaking at a groundbreaking ceremony of the new West Bridge last week, Prime Minister, Roosevelt Skerrit, urged Dominicans to welcome the visitors without hostility.
"I do not want them to arrive in Dominica to an environment of hostility, anger or hatred. I want them to feel welcomed and appreciated," he warned.
Skerrit said some of these new citizens have never visited Dominica, but they are proud and grateful for this new sense of belonging and they are eager to contribute even more, and on a sustained basis, to the development of the country.
"Indeed, some of our agents abroad are in the process of assembling a group of professionals, who are also new citizens, to visit Dominica, to identify and appreciate areas of need where they can assist and lend of their many years of collective training and experience," he said. "They will be coming to Dominica, at their own expense, for a few days, to determine how, as doctors, engineers, architects, scientists, educators, horticulturists and environmentalists, they can help in fast forwarding the development of our country."
His advice to those "who seem to make a favorite past-time of tearing down Dominica" is, "to cease and desist from this less than desirable conduct."
"Our progress as a nation is being stymied and stifled as a result of the constant negative publicity the country is receiving, at the instigation of persons who are paid by the State, to promote its best interest," Skerrit stated. "This evening, for example, were we in Port of Spain, Trinidad, Bridgetown, Barbados or even Castries, St. Lucia, the news tomorrow, next week or next month would be that the country is getting a spanking new, structurally appealing bridge, that welcomes locals and visitors alike, to the capital city."