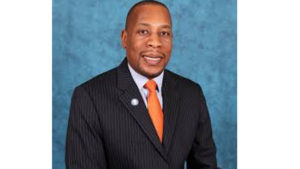 The Eastern Caribbean Central Bank is in the development stage of its pilot blockchain-issued Digital Currency project and according to ECCB Governor Timothy Antoine, interest in the new digital legal tender currency is already extremely high.
"On the digital currency side we launched that in March and we're now in the development and testing phase which is 12 months and that will be followed by the live implementation phase which is 6 months. A lot of people have come forward and said that they're interested. I've just been really blown always by the interest, not just within the region but outside, over this particular project. There's been significant interest, a lot of letters of support and we're looking forward now."
Governor Antoine said in the initial stage of the roll-out of the digital EC currency, it would be limited to four pilot countries in the Eastern Caribbean Currency Union. He said closer to that implementation phase those countries will be announced.
"Our motivation was really to lower the cost of and speed up payments, address the issue of reduced use of cash, and also look for other efficiencies in terms of Know Your Customer protocols.
"We will have four pilot countries; we will name them in due course. We will also have pilot partners who we will work with and ultimately we will be in a position to essentially roll it out to the public, so more on that will come."
This ECCB Central Bank Digital Currency pilot is the first of its kind and will involve a securely minted and issued digital version of the EC dollar. The digital EC dollar will be distributed and used by Licensed Financial Institutions and Non-Bank Financial Institutions in the ECCU. As part of pilot implementation, the ECCB will ramp up its sensitization and education initiatives to facilitate active public engagement throughout all member countries.
Governor Antoine says the use of digital EC currency would be a game-changer for the way we do business in the ECCU.