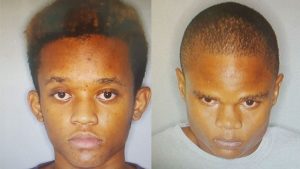 Director of Public Prosecutions Valston Graham has put the court on notice that he will be seeking the death penalty for Brandon Lee Wells and Travien Liddie, convicted of the murder of Wells' sister 17-old Leanna Napoleon.
On Friday, the jury returned unanimous guilty verdicts for the offences of Murder and Attempting to Pervert the Natural Course of Justice for 21-year-old Wells and a unanimous guilty verdict for 20-year-old Liddie for the offence of Attempting to Pervert the Natural Course of Justice and an 11-1 guilty verdict for the offence of Murder.
During the trial that lasted just over one week the jury heard witness statements including one from Liddie that Wells had plotted his sister's murder for months, stemming from contention over the home he lived in, which had belonged to his and Leanna's deceased mother.
Leanna went missing on May 8, 2017 and her body was found buried in the hills of Olivees on June 14 of that same year. Police were alerted to Leanna's killing and the location of the body by an individual who claimed to have been present at the house when she was attacked and who drove the vehicle to dispose of the body.
The statements spelled out how Wells bashed his sister's head in with a hammer and with the help of Liddie and Ivan Phillip buried her body wrapped in a large plastic garbage bag.
The news that the DPP will make the application for the death penalty has elicited widespread debate about the use of capital punishment. The last time a person was put to death in the federation was in 2008 when Charles Laplace was executed by hanging for murdering his wife.
DPP Graham confirmed to Freedom FM that he intends to file that application on Monday.
Trial judge High Court Justice Trevor Warde QC ordered a Social Inquiry Report and Psychiatric Report be completed in preparation for sentencing.
Wells and Liddie are scheduled to be sentenced late November.