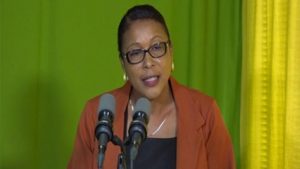 History will be created today as Sylvanie Burton will become the first woman and indigenous person to be sworn in as President of Dominica.
Burton will take her oath of office during a ceremony at the State House Conference Centre.
The event is set to start at 4 pm.
Justice Jacqueline Josiah-Graham, Resident High Court Judge, will administer the Oath of Office to the President.
The Government Information Service of Dominica said Prime Minister Roosevelt Skerrit and Burton will address the ceremony following the swearing-in.
Parliamentarians voted 20-5 to elect Burton during the Fifth Meeting of The First Session of The 11th Parliament on September 27, 2023.
The 58-year-old replaces Charles Savarin, who is leaving office due to term limits.
The president elect has a long history of public service with her last appointment being as Permanent Secretary in the Ministry of Environment, Rural Modernization, Kalinago Upliftment and Constituency Empowerment.-