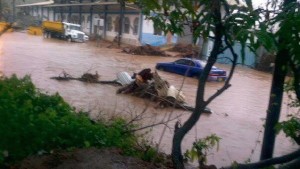 Dominica, still recovering after being ravaged by Tropical Storm Erika, is again experiencing flooding as a result of heavy rains associated with Tropical Storm Grace, according to media reports.
Dominica News Online (DNO) is reporting that many people are now stranded after flooding in Belfast, Pointe Round and Macoucherie, and other sections of the island.
Reports are that the bypass in Pointe Round was washed away. The main bridge was destroyed during the passing of Tropical Storm Erika, DNO stated.
A flood warning is in effect for the island until 6 a.m. Saturday.