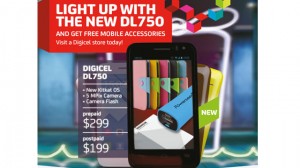 Basseterre, St. Kitts (October 24, 2014) – Digicel St. Kitts and Nevis is today launching the DL750 – the next generation in its line of affordable smartphones which will offer customers the best value as it comes loaded with cool new features that will sure to suit their varying tastes and lifestyles.
Following on from the success of the Digicel-branded DL600 and DL700 models in the Federation, the DL750 offers customers an improved smartphone experience – complete with exciting new colours and a larger screen.
With the DL750, Digicel is giving customers the chance to enter the touch-screen, smartphone world at an affordable price and without sacrificing quality. Delivering all the improved features include a 5 megapixel camera complete with high powered flash, an ample 4-inch touchscreen for easy viewing, the latest KitKat Android operating system, and a superfast 1.3 Ghz Dual Core processor that allows for quick navigation through apps and other functions.
Digicel Retail Sales & Distribution Manager, Ethel Patrick-Thomas explains, "The new Digicel smartphone comes preloaded with the MyDigicel App for easy activation of 4G Data plans, and complete with all the features that our customers have come to know and love from the DL range as well as new additions that give them the freedom to customize their phone and share memorable moments with family and friends."
Digicel's commitment to giving value for money reflects in the DL750 being priced at an affordable $299 on prepaid and $199 for new postpaid customers. Today, October 24 only, gets even sweeter for prepaid customers, who upon purchasing a Digicel DL750, will get to experience 1 week free 4G data subscription.
The new DL750 Smartphone is now available in Digicel Stores at the Circus, Basseterre & Charlestown, Nevis. Mobile accessory kits, complete with powerseed charger, screen protector and phone case are also complimentary with each DL750 purchase, while stocks last. The Digicel DL750 Smartphone – it is Lighter, Brighter, Smarter! Visit a Digicel Store today.