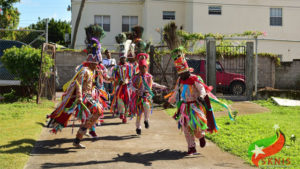 The residents at the St. Christopher's Children Home were all smiles and in good spirits for the Christmas Season as they were greeted with several folklore renditions by local artists and staff from the Ministry of Culture on December 22 at the 2nd Annual Folklore Extravaganza.
A host of activities including masquerade, drumming, dance, and vocal renditions, was put on for the enjoyment of all. Each performance represented different aspects of the Federation's culture.
Acting Permanent Secretary in the Ministry of Culture, Tom Buchanan, said that the objective of the event is to bring folklore to the children and residents of the Children's Home.
He added that the event is one that could not be missed as it is a heartfelt event that brings joy to the residents of the Children's Home. He thanked the department for hosting the event for a second year.
"This is very remarkable, commendable, and really honourable, and I am happy to be a part of it. I am thankful to the Department of Culture and Mr. Mills for conceiving this event and making it happen. We are hoping that this continues to happen into the distant future," he said.
Director of the Children's Home, Margaret Stevens, shared a warm thank you to the performers and the Department of Culture for hosting the event.
"One of the things that really touches me is that a number of children are performing, which for me means that our culture is in good hands. It means that our culture, our history, and our heritage are being passed on and will continue to be passed on to the youth of our Federation. I am so honoured that the Children's Home is a part of this extravaganza and I hope that it continues for many more years to come," she said.