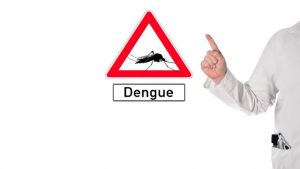 Some Caribbean countries have been reporting increased dengue fever cases with four under the US Center for Disease Control and Prevention's (CDC) Watch Level One.
The CDC in an update on April 17, 2023, under travel notices, states dengue is an ongoing risk in many parts of Central and South America, Mexico and the Caribbean. It says travellers to areas of risk should protect themselves by preventing mosquito bites.
The Watch Level One list has 11 countries, of which four are Caribbean. The CDC notes this means these countries are reporting higher than usual numbers of dengue cases and travellers visiting these countries may be at increased risk.
The Caribbean countries on the list include:
Cuba
Dominican Republic
Guadeloupe
Martinique
A Watch Level One means people should practice usual precautions.
According to the latest figures from the Pan American Health Organization (PAHO) on dengue cases and severe dengue cases and deaths for countries and territories in the Americas, the listed Caribbean countries have recorded the following number of cases already for 2023:
Dominican Republic
870 non-severe dengue cases
9 severe dengue cases
1 death
Guadeloupe
910 non-severe dengue cases
Martinique
914 non-severe dengue cases
In the Americas, dengue is transmitted through the bite of the infected Aedes Aegypti mosquito.