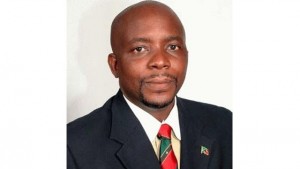 Noted criminal defense attorney Chesley Hamilton has confirmed rumors that gang members have been asked to sign a document signaling a truce among rivaling factions.
Hamilton was a guest on Freedom FM's Issues program on Friday and spoke to the circumstances surrounding the much talked about truce among gangs.
"A gentleman came to my office and he showed me a document, asking my advice, and he's asking me if he should sign it. And I asked what guarantees he has by singing the document and what is he admitting to- are you admitting that you're part of a gang, that you were part of the problems that have gone before, what is there to protect you?
"I am troubled. I applaud the people who are trying to do something and to bring about this truce. It was initiated by some of these young men on their own. And went they went to the Marriott, in view of all the cameras, when the meeting was finished they were locked up. Where is their right to assemble and associate? Some were taken to Nevis away from their families; the majority of them were Kittitians.
"Locked up for what? Because they were meeting to try to bring about peace. Now there is an initiative not sanctioned by any government regulation, any official government policy, no legislation, by no resolution of parliament, and there's a document called a peace agreement."
Freedom FM has obtained a copy of the alleged peace agreement which calls on individuals to to affix their signature to "acknowledge and agree that we will make peace with each other and the communities by 1. The cessation of gun violence and any other acts of violence 2. Continue to work on the free movement of all involved parties 3. Attempting to resolve any issues that may arise by first communicating with each other, and 4. Seeking the assistance of law enforcement or a trusted mediator if we are unable to resolve any issue".
The document goes on to to say that by signing the document, the gang members agree to commit to the establishment of peaceful communities and harmonious coexistence, now and in the future.
The attorney warned that since the truce has not been officially sanctioned by the authorities, it does not guarantee those signing the document any protection and thus may not be effective in ending gang violence in the country. Another issue raised was the absence of any mention of repercussions for breaking the truce.
"Now any two people can contract between themselves, so why is this being done in this slight of hand, underhanded way that it is being approached? I don't think gives these young men any security, any guarantees, and I've said if you're going to approach this I've always called for something sanctioned by the authorities- a Truth and Reconciliation Commission. Give the opportunity to come forward to bear their souls, tell the truth and to get the rewards of so doing; and to come to the understanding that going forward there will be reconciliation and there'll be peace going forward.
"It's an initiative, it's a start, it's something, but I do not think without the cover of official sanction, without the authorities, without the police, without the Ministry of Justice and the Attorney General's office, and without the Ministry of National Security and his offices sanctioning this and perhaps the cover of legislation and a resolution of the parliament that this thing is going to yield the fruits that it should yield, and I think it could be very dangerous to these young men to put their names to a document admitting to what? They were involved in violence and they are now having a peace treaty going forward? So they are part of the mayhem that went before? Because that is what it would be implying. What are the consequences for saying I am now at peace and if some things flare up later on? Have I broken that truce, is it me, is it who? So they will come and lock up all who have signed and say why is there now some other act of violence?
"I don't believe without the official sanction of parliament, the Ministry of National Security and Ministry of Justice that this should be something they should be asking these young men to sign. If the young men's initiative by itself wasn't applauded then I don't think that others coming forward without any government sanction or approval can or should be asking these young men to sign these documents."
The alleged gang truce came on the heels of one of the bloodiest months in recent times where seven persons were shot to death execution style all in the month of February. The citizenry became even more alarmed at the pace at which the homicides were occurring, at one point there were three such killings in less that 24 hours.